Arrange a free home visit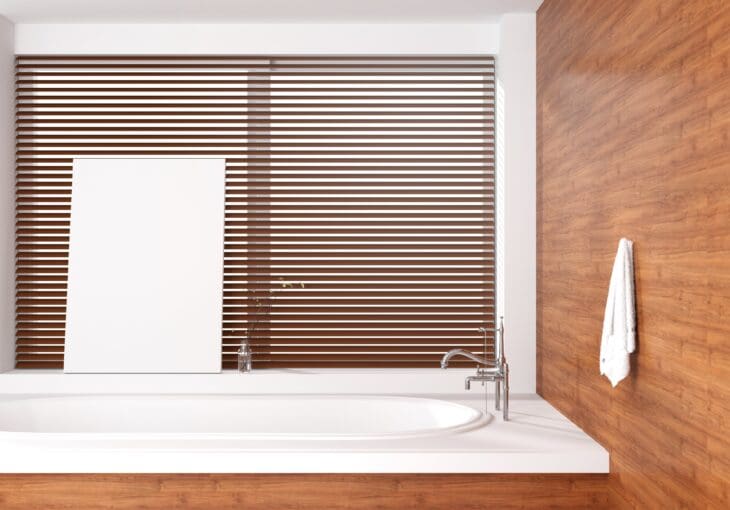 We can't think of a quicker or more stylish way of adding that little bit of luxury to your home than having high-quality blinds installed in your home.
Benefits Of Having High Quality Blinds Installed
In our experience, we can't think of a quicker or more stylish way of adding that little bit of luxury to your home than having high-quality blinds installed in your home. Once you've selected blinds from our stylish collection you can enjoy total control over the amount of light that enters your room. Our huge range of specialised blinds can give you the option of stylish light control. Enjoy total coverage with our extensive collection of wooden blinds or allow more light into your bedroom, spare room or office space with our range of vertical blinds. As part of our stunning collections are motorised electric blinds, these give the added benefit of you not having to lift a finger to set the perfect mood for your room. Looking for a total blackout to enjoy a film with the family or want to watch the sunrise from the comfort of your bed? Simply use the handy remote to close or open the blinds.
As well as being a stylish addition to your home, once you install blinds you can enjoy complete privacy from the outside world while also not inhibiting the amount of light entering the room. Because the majority of our blinds are top-down you can prevent people from looking in while keeping a certain amount of light. Another great benefit of blinds is the sheer amount of materials and styles you can choose from. From patterned blinds, pleated blinds and electric blinds to stunning Venetian shutters, roman blinds and panel blinds there's bound to be a style and a material that will suit you.
What types of blinds are available at Solaire Blinds?
At Solaire Blinds, we know that finding the right blinds to complement each space within your home or property is vital. That's why we do our best to provide customers with bespoke blinds that meet their needs.
With us, you can expect an extensive range of picture-perfect blinds that are expertly crafted with the utmost quality – all for an affordable price. We are proud to tell you that we have pretty much every blind type and style available at our spectacular blinds shop in West Yorkshire. Whatever type of blinds you require, we have it.
Blinds are more than just a window cover or light control solution that every home requires, they also serve to provide aesthetic appeal to our living spaces – there are so many different types. We have a complete range of blind styles to suit your needs, from traditional blind styles to our assortment of modern-design-inspired window blinds – not to mention our contemporary-style blinds as well. 
Some of the various bespoke blinds we offer include: 
Venetian blinds

Vertical blinds

Roller blinds

Wooden blinds

Motorised blinds

Roman blinds

Day & night blinds
Our highly functional and effective blinds can be installed in a number of spaces around your home – be it as conservatory blinds or bathroom blinds – as well as in schools and business settings. 
While we are well renowned for offering a wide range of blinds in a selection of colours and materials, our blinds are also very high in quality and are fit for purpose, providing your home with a wealth of benefits such as efficient light control. 
Regardless of the type of blinds, you desire to bring a touch of elegance and practicality to your space, rest assured that within our comprehensive range of blind styles and design options, we have the perfect blind type for you. Choose from custom finishes and stunning designs – we can accommodate any sort of design budget.
Stunning range of bespoke living room blinds
When it comes to designing and embellishing your living room, there are infinite design possibilities – the same goes with your blinds. We believe your living room is one of the most important spaces of your home – and it is certainly the most essential space when it comes to aesthetics and design. 
In this living area, you want to be able to sit back, unwind and relax whenever you want – comforting lighting and colours help this. This room also needs to be a social hub – a space where you and the rest of your family can socialise with each other or with friends and guests. 
There's no doubt that design very much matters when it comes to making your living room a welcoming space for visitors, so much so that even the smallest touches can make a prodigious difference to the overall look and feel of the room. With this in mind, blinds are certainly that extra touch that will completely define the atmosphere of your living room. 
Having sufficient lighting that can be easily controlled and adapted for different moods and occasions is vital. Similarly, it can make the space more welcoming for guests who may desire a well-lit room when they come to see you. With the right set of blinds, natural lighting can be fully controlled, and you can have the ability to make your room either completely dark, entirely lit, or several points in between, so rest assured, we can provide the most comforting and stylish blinds to give your living room exactly what it needs. 
We provide a large selection of bespoke window blinds in a wealth of styles and designs to suit your living room and add the most perfect finishing touch. Within our vast offering of showstopping window blinds, we offer pleated blinds, vertical blinds, day & night blinds and motorised blinds – to name a few. 
We have some great suggestions for the best blind styles for your living room. However, keep in mind that the majority of our selection can be customised for living rooms and other areas.
Types of Blinds We Specialise in at Solaire
Vertical blinds
Perfect for regulating the amount of natural light that enters your space by simply changing and adjusting the vertical slats that come with them, vertical blinds are an extremely popular option for living room blinds. 
Sometimes you want your living room to be well illuminated with natural light, perhaps during the day when wanting to focus, but then you might also want to switch off and relax sometimes, thus wanting to block out all-natural lighting. This is exactly why vertical blinds are a great solution for living rooms since they allow you to control light flow to the greatest extent.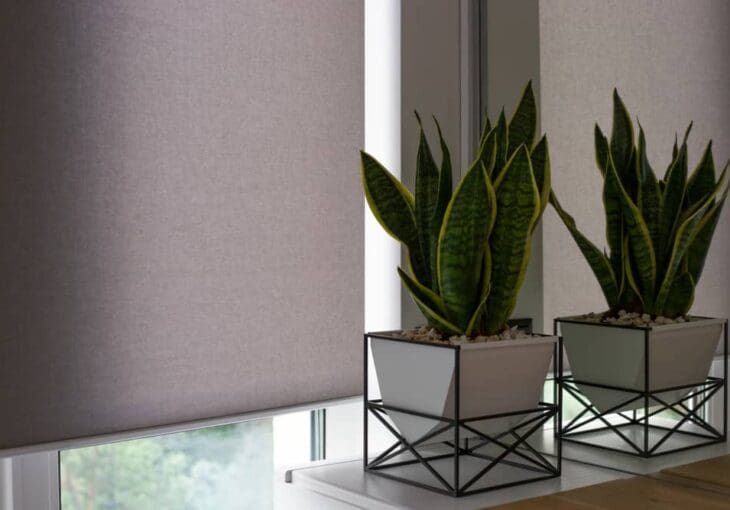 Panel blinds
Panel blinds bring some significant flair and elegance to your space, and are very ideal for modern and contemporary living rooms. These blinds, which fall midway between blinds and curtains are a top pick for people who favour a minimalist style. 
At Solaire Blinds, we provide you with a boatload of options when it comes to picking a gorgeous fabric and colour scheme to go with your living room decor. Our panel blinds come in a variety of fabrics, from sheer material to huge, bold patterned designs for a burst of colour and style.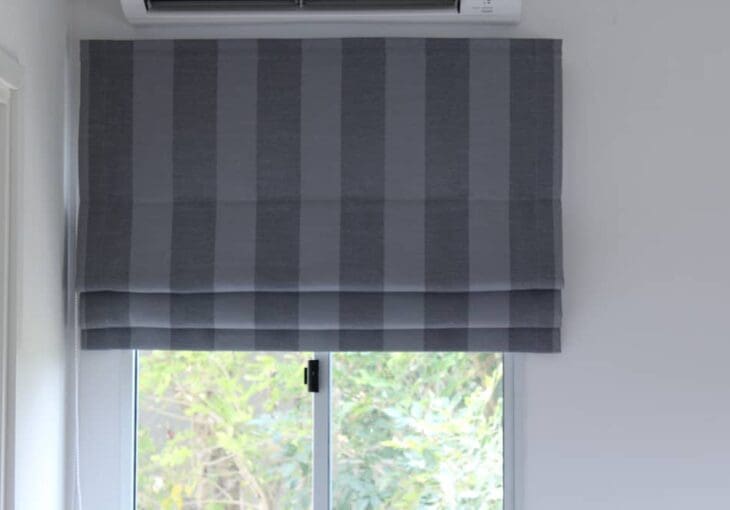 Roman blinds
Another favourable style of blinds for living rooms is the extremely popular Roman blinds style. These exquisite blinds will definitely give your place a sense of class and refinement. 
The most appealing qualities of standard blinds are combined with the greatest elements of a curtain in this type of blind. Roman blinds can offer the functionality of a blind along with the luxury that curtains offer – you get the best of both worlds. 
Roman blinds boast great flexibility and versatility, which is another of their appealing qualities. They are ideal for your living room since they contain a thermal lining to help with insulation and warmth and a blackout lining to help with light regulation.
Blinds for large windows
Does your home, property or commercial space have large windows? Well, count yourself lucky! Large windows allow for a large amount of natural light to enter your home and create a huge portrait of the outside world without the need for artificial lighting. 
There are several benefits of having large windows, one being that they could save you a lot of money on your energy bills! Even better, you can take in breathtaking views of the wonderful outdoors from the comfort of your own sofa. 
However, since large windows allow more natural light, you'll need a solution to control the flow of light that enters through them. Large windows are common in larger buildings such as commercial buildings and properties – which we are proud to have provided blinds for in the past.
What are the best blinds for large windows?
We recommend vertical blinds for large windows since they allow for a substantial amount of natural light to pass through and light up your space while also maintaining privacy so that no one can see into your room. 
Another great style of blinds that we believe are perfect for large windows is panel blinds. Since they act as an exceptional room divider, panel blinds are perfect for larger windows, such as the windows you may find in larger living rooms. They are a brilliant choice for large door windows such as patio windows, for example. Moreover, panel blinds also provide straightforward and convenient light control and simple maintenance because they do not frequently attract dust. 
Our expert blinds design team will collaborate with you to discuss your window decorating ideas and the number of panels required for the space, regardless of the function your panel blinds will serve.
How we measure your blinds
The way we measure your blinds can depend on the type of blinds you want to be measured and fitted in your space. Whether we are measuring and installing pleated blinds, conservatory blinds, wooden blinds, roller blinds or any other type of window blinds, we first have to start by measuring depending on your recess. 
The space between a window pane's surface and the wall it is recessed into is known as the window recess. To determine whether or not your window has a recessed space, we must first measure the area where the blinds will be installed. We will need to determine whether your blind will fit inside or outside of the recess (if it does have one). If you have a deep window recess, your blind can fit nicely inside of it; however, if your window recess is shallow or you want to keep this area free, it will be better to place your blind covering outside of it.
Looking to measure your own blinds?
You can measure blinds yourself without a recess. To do so, you should use a metal tape measure for precise measuring, as with all blind measurements. 
To begin, measure the width of the window and add 10cm (4″). This will enable a 5 cm/2 inch overlap on either side of the window, effectively blocking out light and maximising the effectiveness of your blinds. 
You must choose where you want the bottom of your blinds to terminate once you have determined the width. After making this choice, measure the window's length from the top down to this point.
Feel free to ask our team for assistance
We're always delighted to help and offer any advice regarding your needs, the type of blinds you want and your space, so, if you'd like to chat to one of our blind experts about the procedure in more detail, get in touch with us today. 
For years, we have been providing the greatest blinds and delivering top-notch customer service to the blinds business. You can talk to a member of our team online today or by calling us on 0345 222 0138.
In order to prevent the fabric from catching on the window sill, a length deduction is typically needed when measuring the space for vertical blinds. We'll use our machines to calculate this deduction for you. 
You will need to add an additional 5cm/2″ if you choose roller blinds to accommodate the operating system that operates the blinds. Roller blinds are typically best positioned outside of the recess.
Choosing the perfect house blinds for your home
Our team of reputable blinds fitters here at Solaire Blinds are proud to offer customers the opportunity to choose from a comprehensive selection of blinds so that you can purchase the perfect set of made-to-measure blinds for your home – we can offer a complete variety of solutions for any style of window. 
For customers in and around Yorkshire and the UK, we offer the perfect blinds solution. Really, there is a variety of blinds for everyone, including blackout blinds, horizontal blinds, Venetian blinds, plantation-style shutters, commercial blinds and more. We can assure you that blinds are the greatest alternative to curtains.
Additionally, you can choose from a virtually infinite number of colours, designs, fabrics and an array of styles thanks to the enormous range we offer. We have plenty of advice guides and an unmatched blind buying guide service where we will come to you and help you choose the right blinds from the comfort of your own home or space – it's a personal choice for your blinds. 
Book your free consultation today or get in touch with our team over the phone on 0345 222 0138. Or head down to our blinds showroom in Wakefield. We would love to see you!