Arrange a free home visit
PANEL BLINDS IN LEEDS & WAKEFIELD
WHAT ARE PANEL BLINDS?
Panel Blinds are made from hanging fabric attached to a multi-channel track at the top. When they close, the first panel glides along the track and pulls the other panels behind it in succession, for a smooth transition. They can be operated by a cord or wand for ease of operation. They're great for bigger windows, and work well when you have a few in a row.
Which Panel Blinds Do We Offer?
We have a unique range of Panel Blinds available in many fabrics, prints and colours. They are unbeatable in style and elegance and can be easily fitted to your windows. Panel blinds are perfect for floor to ceiling windows, and make a beautiful and sophisticated display. They are also perfect as room dividers to create different zones in a larger room, creating a sense of comfort and warmth.
We will work with you to determine how many panels are optimum for the window that we are dressing. We have years of expertise making rooms look beautiful, so you can trust that we will do the same in yours.
The Benefits Of Panel Blinds
There are many benefits to having panel blinds installed in your home. Made to measure panel blinds are sophisticated, but still create a cosy atmosphere, the perfect balance! They are fantastic for floor to ceiling windows, patio windows or as room dividers.
Great for light control and privacy.
Adds additional style and sophistication to your room.
Easy to clean and maintain as they don't collect dust.
Works well with larger windows and in rooms such as the lounge or dining room.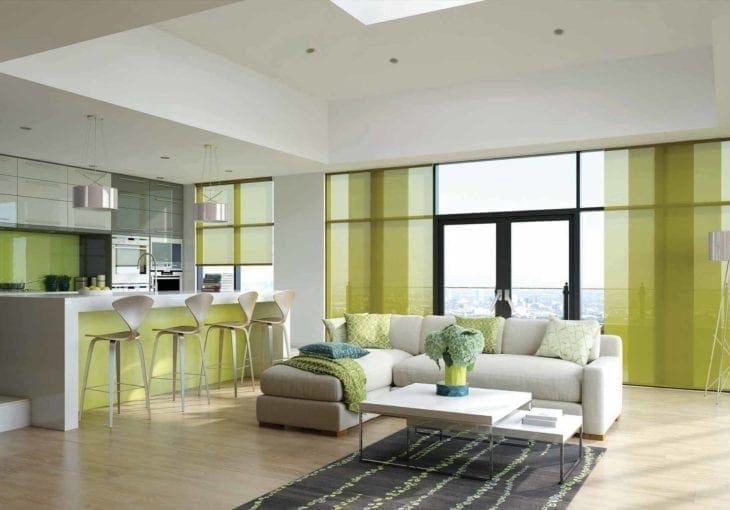 Get in touch with Solaire Blinds today
If you'd like to chat to a member of our experienced team about our panel blinds, there's a number of ways you can get in touch: