Arrange a free home visit
PERFECT FIT BLINDS IN LEEDS & WAKEFIELD
WHAT ARE PERFECT FIT BLINDS?
Perfect Fit blinds are designed to sit perfectly flush against your window for a neater, cleaner, and more contemporary finish. This means that you won't have to worry about drilling any holes or installing curtain poles, significantly reducing installation time.
In addition to being neater and more aesthetically pleasing, Perfect Fit blinds are less bulky than typical blinds, and thus take up less space, allowing you more flexibility and creativity in your interior design.
Perfect Fit blinds are available in a wide range of base colour styles and blind styles – from Roller to Venetian, Wooden, Pleated, and more – so, whether you are looking for a contemporary style or industrial style design, we will have just the solution for you.
Choose from hundreds of styles and dazzling finishes for blinds that are, quite literally, perfect for you. Once you know your ideal style solution, we will make your blinds in the house, for an affordable price, resulting in the most fuss-free installation.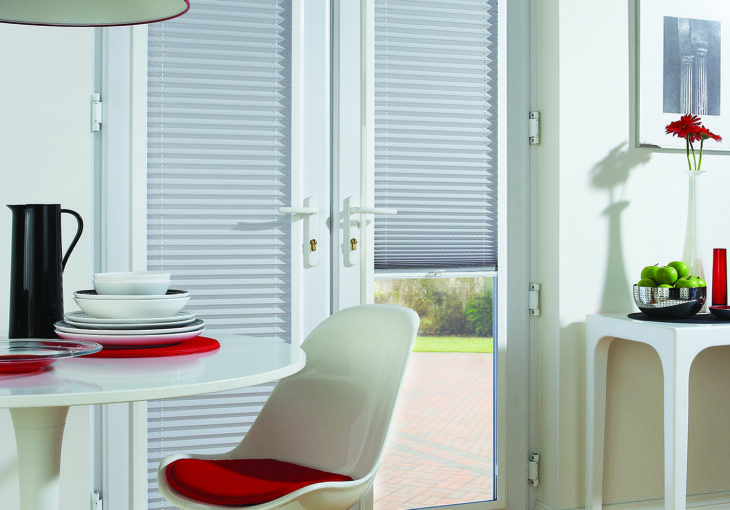 How do Perfect Fit blinds work?
Perfect Fit blinds are installed along two runners that sit on either side of the window frame. When fully open, the blinds will neatly fold or roll (depending on your style preference) to the top of the window.
When fully closed, the blinds will cover every inch of the window pane, without taking up space on your window sill.
They are controlled by pressure and tension. To operate, put pressure on the bottom bar of the blind itself, which then allows you to open and close your blinds.
This means that you won't have any cords, cables or wands – not only does this allow you to install them on diagonal or horizontal windows without the worry of any dangling cords, but it also means that your room will be much neater and more child-safe.
Which rooms can you use Perfect Fit blinds in?
The perfect combination of style and functionality, Perfect Fit blinds are fantastic for every kind of room – but especially for the following.
Living and dining rooms
Perfect Fit blinds are also an attractive option for patio doors, bi-fold doors, and any other door that incorporates uPVC windows. When this is an external door, especially, blockout fabrics can not only improve privacy but also the security of the house too.
These window blinds offer a huge range of benefits for both your living and dining room in this regard, as this is often where bifold doors especially tend to be installed, giving you greater light control over how much natural light you let into these rooms.
Bathroom and kitchen
When considering your options for kitchen or bathroom window frames, your main concern for the blind styles will likely be how waterproof the fabric is.
After all, bathrooms often have frosted glass windows, so you might even be able to get away with a piece of more translucent fabric and still maintain a modicum of privacy.
Our Perfect Fit blinds are excellent for bathrooms, kitchens and other humid environments, thanks to their moisture-resistant fabrics.
Bedroom
Perfect Fit blinds are effective for all windows, even those which are a little awkward in their size or placement. Thanks to their tidy finish and clean installation, this sophisticated window solution takes up little space in the room or window sills.
Due to this, Perfect Fit blinds are a smart choice of blind type for all kinds of bedrooms, no matter how large or small. They are particularly effective for box rooms and spaces with slanted ceilings or skylights, as the blinds fit snugly in the window frame.
Our Perfect Fit blinds are also child safe, so can be used in the bedrooms of all the family.
Ready For Your Free Design Visit?
Contact our team today to learn more about our Perfect Fit Blinds and to organize a home visit. We'll find the perfect fit for you.
Measuring your windows for Perfect Fit blinds
As Perfect Fit blinds are designed to fit flush against the window itself, taking measurements is slightly different to measuring for other types of blinds – but the process is essential to ensure effortless installation.
Standard window
Firstly, for perfectly rectangular or square windows, measure the width and height of the window. For other shapes – this can be a little trickier – so get in touch with us first to see what we can do.
Importantly, when measuring the window, take the measurement in three different places, and then provide us with the lowest of the three – this allows us to ensure that the blind fits as snugly as possible.
You can also provide us with the depth – which is the drop between the uPVC or wooden frame and the glass itself.
Doors
For French or bi-folding doors, simply follow the steps above, to begin with.
Then, you will also need to consider the opening and closing mechanisms of the door. For example, with bi-folding doors, you should also look at the angle at which they move, and the available space between glass panes when fully stacked so that you can ensure the blinds will not interfere with the door itself.
This can be tricky – which is why we recommend you get in touch for assistance.
Bay window
For a bay window, follow the instructions for the standard window for each of the three sides and three panes of glass individually.
It is also helpful to know the distance between the top corners of the adjacent pane. This will ensure that the blinds will not protrude as much as to touch, block, or completely derail the installation of its neighbouring blind.
Again, this is a little complicated, so don't hesitate to get in touch for some help.
Once you have taken your measurements using the guidelines above, just send them over to our expert team, who will use them to make bespoke Perfect Fit blinds that fit – well – perfectly!
Alternatively, our blind experts can take the measurements for you – we will visit at a time that best suits you. And, while we are there, why not take advantage of a free design visit, where you can view the variety of styles we offer from the comfort of your own home?
Get in touch with Solaire Blinds for made-to-measure, bespoke domestic or commercial Perfect Fit blinds across Leeds and Wakefield
For more information about any of our products, from Perfect Fit to roller blinds – or for expert style advice about the range of fabric colours our affordable fabrics come in – get in touch with Solaire Blinds today, or visit our showroom in Wakefield.