Arrange a free home visit
BATHROOM BLINDS IN LEEDS & WAKEFIELD
We realise that it can be an intimidating process to pick out and order window blinds for your bathroom. You might be scared of choosing blinds that don't go well with the rest of your bathroom's design. Alternatively, you may be wondering how you can ensure the blinds you have installed won't deteriorate amid the humidity, steaminess and moisture of this part of the home.
Our blind experts are on hand to help you select the blinds that are right for your bathroom – we've provided blinds in a range of styles for years in Leeds and the nearby areas of Wakefield and Dewsbury. Contact a member of our team by completing our online contact form or giving us a call on 0345 222 0138.

You might love the aesthetic and practicality of roller blinds, but fear that in a routinely wet and hot environment like a bathroom, they won't exactly be the best blinds for such a specialised part of the home. Well, the great news is that yes, these blinds – based on a single piece of fabric that you roll up and down depending on how much light and privacy you want at any given time – can definitely be designed and made to suit a bathroom.
Here at Solaire Blinds in Leeds, we're all about providing local homeowners with stylish and convenient blinds from all of the leading suppliers, and in a range of pleasing designs. The options include waterproof roller blinds that can stand up to whatever punishment the bathroom environment might throw at them. Even motorised roller blinds could be possible for your bathroom, enabling you to raise or lower your blinds without having to be right next to them.
It's easy to see why roller blinds have remained so popular among residents of Leeds, Wakefield and the surrounding areas for so long. They look classic and timeless already, but can also be purchased in any of a variety of fabrics, colours and patterns. This will help ensure the roller blinds you select for your bathroom fit in well with whatever wider decor scheme this part of your home has.
Furthermore, roller blinds are exceedingly easy to use, clean and maintain; you can pretty much just install them and forget about them for years to come. So, why not call our blind experts, on 0345 222 0138, to discover which types of roller blind could be right for your bathroom?
Venetian blinds have long been a popular choice amongst our customers, and we can hardly blame them. With their seemingly effortlessly good-looking and easy-to-operate horizontal slats placed on top of each other, Venetian blinds are arguably among the best blinds you could choose for a bathroom.
Almost anyone and everyone knows how to adjust a Venetian blind, and you'll scarcely need to do a thing to keep yours cleaned and maintained. Meanwhile, their moisture resistance and durability help make them an incredibly practical, not merely visual, choice for a wet and hot environment like a bathroom. Oh, and they're highly effective at what blinds are supposed to do – giving you a simple and easy means of controlling light levels and privacy in your bathroom.
Another great advantage of choosing Venetians for your bathroom is the broad range of colours, finishes and other design options that allow you to control light flow without sacrificing the overall decor of the room. In fact, we can even visit your home to help you select the Venetian blinds that will work best in your bathroom. So, whether you have metal, wooden or faux wood blinds in mind, now is the time to reach out to our blind experts.
We're full of great blind ideas, so even if you're not sure where to start with choosing Venetians for your Leeds or Wakefield bathroom, we'll point you towards the possibilities. Our team has more than three decades' collective experience in the blinds industry and can provide made-to-measure solutions that represent great quality and value for money.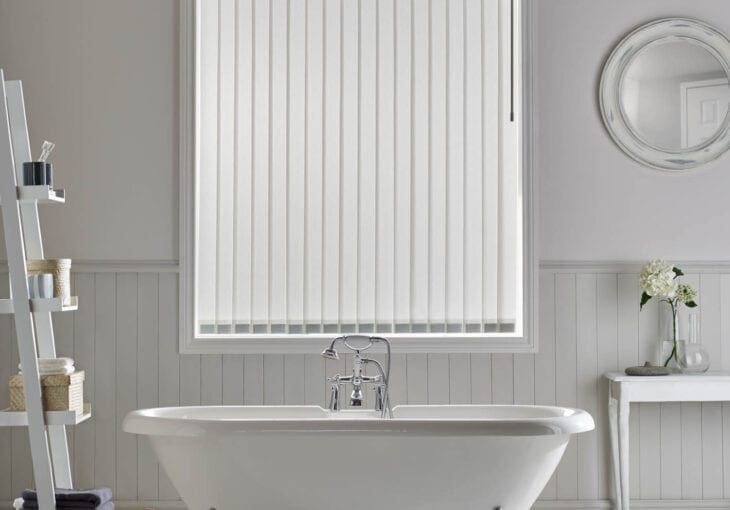 ROMAN BLINDS
Roman blinds are an enduringly popular type of blind, based on one piece of fabric that folds into pleats when the blind is opened. And when you close the blind, it'll look like one flat and smooth piece of fabric. It's a sophisticated look, with the fabric adding what may be much-needed softness to many different rooms of the home.
Now, thinking back to all of the times you've ever seen Roman blinds, you might remember spotting them in the likes of bedrooms, dining rooms and conservatories. But can they possibly be made to work in a bathroom, given the moisture and steaminess of such a space?
You might be surprised, but the answer in some cases is "yes". While it's best not to install Roman blinds in small and heavily used bathrooms – given the risk that direct moisture can pose to such window dressings' legendary style and elegance – they can be an excellent choice for larger and well-ventilated bathrooms. With Roman blinds arguably bridging the gap between blinds and curtains – offering the ease of operation and convenience of a blind, but also the warmth and blackout capabilities of a curtain – they can make a lot of sense in certain bathrooms.
One of the benefits of ordering your blinds through a company like Solaire Blinds is the true made-to-measure and tailored service that we offer. We provide a wide range of options for Leeds and West Yorkshire homeowners in terms of colours and fabrics for Roman blinds, and we can guide you in the process of choosing bathroom blinds that are good-looking, practical and affordable.
Get In Touch
Whilst you may feel spoilt for choice, the good news is that when you have us visit your home, we can measure up and discuss the various Venetian, Roman and roller blinds that make up our range. After all, when you make the right choice of fabric, metal, wood or faux wood window blinds at your first attempt, you won't need to worry about replacing them for many years.
Simply call the Solaire Blinds team today, on 0345 222 0138, or send us an email to request more information about our products and service. Wherever you live in or near Leeds, we'll soon have your bathroom fitted with blinds that tick all of your visual and practical boxes – at the right price.