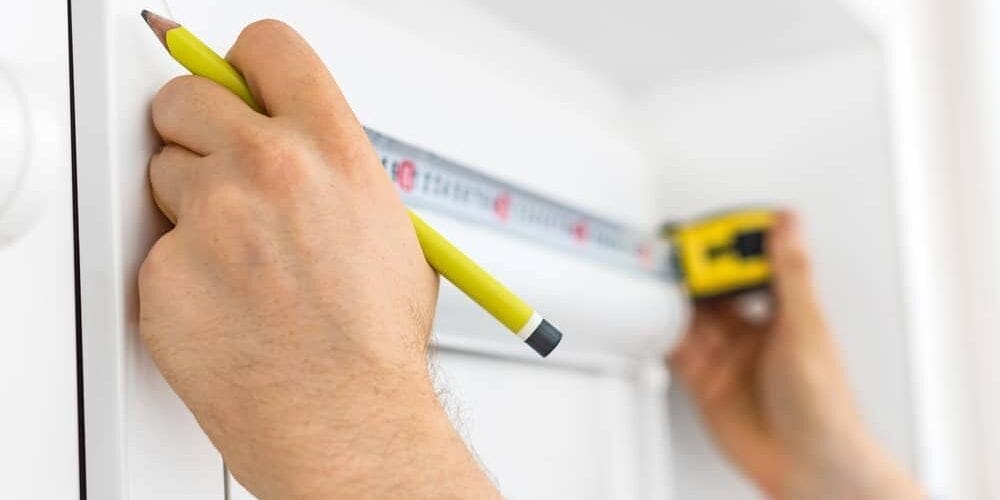 We know that many people find the task of measuring windows for blinds quite tricky. There can often feel like there's a lot to take into consideration, especially when there are so many different conflicting guides out there, but it shouldn't have to be a difficult experience. In this blog, we've taken it back to basics to provide simple instructions you can follow step by step, on how to accurately measure windows for blinds.
This is a general guide, and for the different types of fitting, there are some additional instructions you must follow depending on the type of blind you are interested in. If you'd like to speak to one of our blind experts about the process in detail, we're always happy to help and provide advice specific to your space and chosen blind. We've been offering the best blinds and exceptional customer service for years in Leeds, Wakefield and further afield across the North West. You can talk to a member of our team online today or by calling us on 0345222 0138.
Measuring windows for blind installation
Whether you're wanting to know how to measure for wooden blinds, Venetians, rollers, pleated blinds or any other type, you'll have to measure depending on your recess. Before measuring the space where the blinds will go, you need to identify whether your window has a recess space. A window recess, or a reveal, is the distance from the surface of a window pane to the wall that the window is built into. If it does have a recess, you'll need to decide whether or not your blind will fit inside or outside of the space. A deep window recess will allow your blind to fit neatly inside this space, but if you want to keep this space clear or have a shallow window recess, it will be best to fit your blind outside of it.
Recess fittings
If you're measuring the space prior to a recess fitting, use a metal tape measure to ensure your measurements are accurate. Because the width may not be consistent along the recess, you should measure it at three different points. Then, use the shortest measurement as your width.
Next, you will need to measure the length. Use the same metal tape measure and the same approach you used to measure the width. Work out the length from the top of the recess to the window sill at three different points, and then note down the narrowest point.
For an inside mount, you must also measure the depth to ensure that your blinds will fit well and can definitely be mounted. The depth should be measured from the glass of the window to the edge of the window opening. You can then check this measurement against the minimum depth dimension of the product you are wanting to buy. When measuring, make sure that no obstructions can affect the accuracy of your measurement.
If ordering blinds for a bay window, they must be ordered as a recess fitting. However, the task of how to measure a bay window for blinds, as well as the likes of roof windows, angled bay windows and bi-folding doors, is more complex than measuring standard windows. Luckily, our blind experts are on hand to help and are happy to measure for you or guide you through the process. Just get in touch with us online or call us on 0345222 0138 for more information.
How to measure for vertical blinds with a recess fitting
To measure the space for vertical blinds, usually a deduction in length is required to avoid having the fabric catch on the window sill. We'll make this deduction for you using our machines – just give us your original recess measurement.
How to measure for rollers, roman and Venetian blinds with a recess fitting
For a smooth extension when fitting roller, roman and Venetian blinds, you should subtract 1cm from the width. If you're having them fitted by us though, we'll take this into consideration so please give us the exact size you've measured – without the deductions – as we will make the adjustment for you to accommodate for the mounting brackets and the headrail.
Exact fitting (without a recess)
As with any blind measurements, you should use a metal tape measure for accurate measuring. First, measure the window width and add 10cm/4" to the total. This will allow a 5cm/2" overlap on either side of the window, which will effectively block out light, making your blinds as effective as possible. Once you have measured the width, you need to decide where you'd like the bottom of your blinds to end. Once you've made this decision, measure the length of the window from the top down to this point.
If you decide to fit your blinds outside a window recess, you'll need a track or bracket above the windows. These will usually be fitted directly to the wall or to a batten greater than 5cm/2" above the window frame. To ensure your blind gives you full coverage and there is no visible glass, measure from the top of this fitting to the window sill for accuracy.
How to measure roller, vertical and Venetian blinds without a recess
If you've chosen roller blinds, you'll need to add another 5cm/2" to account for the operating mechanism that controls the blinds. It's usually the case that roller blinds are fitted better outside of the recess. If fitted within a recess, the mechanism to make the window blinds work needs additional space. This can result in a wider gap between the wall and the blind, letting more light through and minimising the effectiveness of the blinds. Roller, vertical and Venetian blinds should all fit just above the height of the recess. However, Venetian and vertical look best when fitted inside the recess. This provides a neater finish and a better fit.
Get in touch with us
For years, the team here at Solaire Blinds have created quality blinds to an exceptional standard for customers across the North West of England. We have a variety of styles and unique designs to ensure that no matter the type you're looking for, we can create custom blinds that you're going to love for years to come. If wanting to discuss the most suitable option for your space or you're interested in finding out more about our fitting options and the products we have on offer, please feel free to get in touch with us online or by calling us on 0345222 0138.