Arrange a free home visit
OUR LEEDS BLINDS SHOWROOM
For blinds in Leeds that are attractive, long-lasting and crafted to a luxurious standard, Solaire Blinds have you covered.
Our Leeds showroom is carefully designed to showcase our range of exclusive products, demonstrating their functional designs, and the many ways they mesh seamlessly into a variety of domestic and commercial spaces.
With decades of experience as blinds experts, Solaire Blinds make bespoke blinds to suit every decor style! Pleated blinds, Venetian blinds, roller blinds, day and night blinds and Plantation shutters – there's nothing Solaire Blinds can't create bespoke for you, bringing premium quality without the high-end price tag.
Step into Our Leeds Blinds Showroom to See the Variety
Find us at 484 Harrogate Road, Leeds, LS17 6DL. Our expert team will be ready to welcome you in and discuss all the details of your new made-to-measure blinds.
We have several dedicated free parking spaces at the side of the shop, and there's more free on-street parking on the street near the shop, so no need to worry.
How to Find Us
If you're coming to us straight from Leeds City Centre, you'll find us just at the top of Scott Hall Road where it meets the A61 to Harrogate. Coming through Moortown? We're at the junction after Moortown centre. If you're driving from Harrogate, the Solaire Blinds showroom is at the top of the A61 where it meets the ring road to Leeds.
Explore the full range of bespoke blinds our Leeds blinds showroom has to offer. With such a large selection of colours and materials to choose from, we believe the best way to experience the full range is in person.
Discover the Best Blinds in Leeds & West Yorkshire
The best blinds aren't only defined by the quality of the product, but the care devoted to the installation and – most of all – the level of service you receive throughout the design and installation process. Not all of Leeds' blinds are created equal, and we at Solaire Blinds stand out from the pack for a number of reasons.
Our consultation service is second to none, with reliable advice from a friendly team. We also have a variety of blinds to suit any taste or budget – for example, our Cellular blinds make a perfect choice for contemporary living room blinds – and all are available for you to browse through during consultation.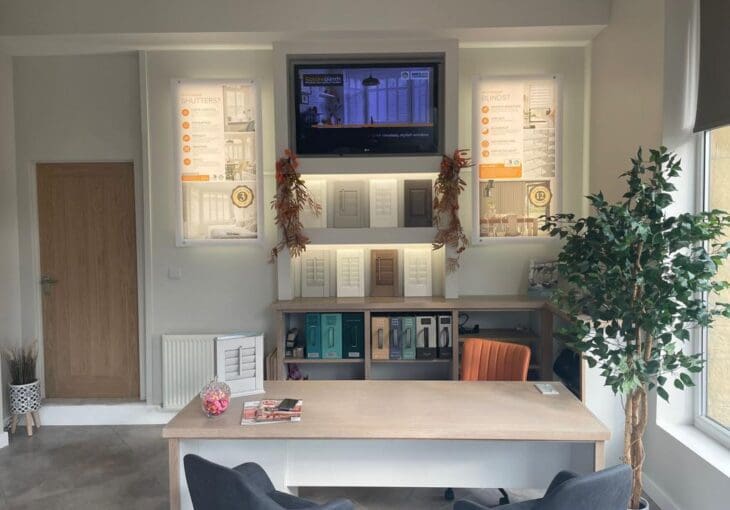 Yet, that's not all. We are well-known across Leeds for:
Our commitment to top-quality blinds
Our direct and affordable prices
Bespoke blinds, customisable down to the choice of fabrics
A made-to-measure fitting service for all window sizes
How fantastic our customer service is!
More than anything else, we love providing Yorkshire's residents with affordable, luxurious and high-quality blinds that they can trust. Your blinds shouldn't be fraying, hard to maintain and easily damaged by water and heat. Our team at Solaire Blinds make wonderful blinds and shutters to last, and be a loved part of your home or business for a long time!
Interested in having a member of our in-store team help you design the perfect blinds or shutters for your property? Don't hesitate to reach out to us for a no-obligation quote, today.
See the Quality for Yourself at Our Leeds Blinds Showroom
Scrolling through our website is great, but seeing the quality of our blinds and shutters yourself is even better.
To experience the quality of our products first-hand, we urge you to pay our amazing Leeds showroom a visit! Our eager customers – Leeds residents and business owners alike – can receive a number of exclusive in-store services throughout their visit, too.
Our helpful team members provide a free design consultation, bringing a fresh perspective to your space and advice on the most suitable products for you. We stand firmly against pressurising sales tactics, which is why our quotes are always given with absolutely no obligation to purchase unless you're ready.
We Give No Obligation Quotes for Any Project
Whilst there's no pressure to buy, the convenience of our services may soon win you over. Customers can design and select their dream blinds, get a quote and book their installation all in one visit if they wish.
Make an informed decision on the perfect blinds for you by visiting our Leeds showroom in person over scrolling online, where your top choices might appear different.
Made-to-Measure Blinds in a Huge Variety of Styles
At Solaire Blinds, we provide made-to-measure blinds in a huge variety of styles. With an array of colours and materials to choose from, our customers are truly spoilt for choice! The customisation we offer is one of our best selling points, and we're thrilled to offer blinds in Leeds that are bespoke from start to finish. Our customers can customise their blinds choice to fit their space in every way.
We have a vast range of fabric colours and materials to choose from – especially for our Roller blinds, although this level of choice extends across our entire inventory! For any customers interested in our wooden blinds and shutters, you can pick a colour from the full Farrow & Ball range that we stock.
Here's some specifics around some of our made-to-measure blinds:
Plantation Shutters
Our plantation shutters are available in a variety of materials; wood, faux wood, plastic and quality MDF included. These fashionable shutters are also provided in over 50 different colours, finishes and styles! Painting and staining are no problem.
Pleated Blinds
Our pleated blinds are highly adaptable. You can choose from stand-out colours that bring vibrancy to your home, and fabrics that serve different purposes – to block out light or to control temperature, for example. Even the headrail is customisable in colour!
Panel Blinds
Our panel blinds are chic and highly functional, available in countless luxurious fabrics, prints and colours. They can even be used as room dividers! The design potential of our panel blinds is limitless.
Perfect Fit Blinds
Perfect Fit blinds are a neat and attractive addition to any home, coming in a massive range of base colour and blind styles! Make your perfect fit blinds Venetian, Roller or Pleated! The sheer number of styles, colours and finishes available is astounding.
Don't miss out on the rest of our made-to-measure blinds. Check out the entire range of blinds, with many additional styles to explore that we could only briefly mention here.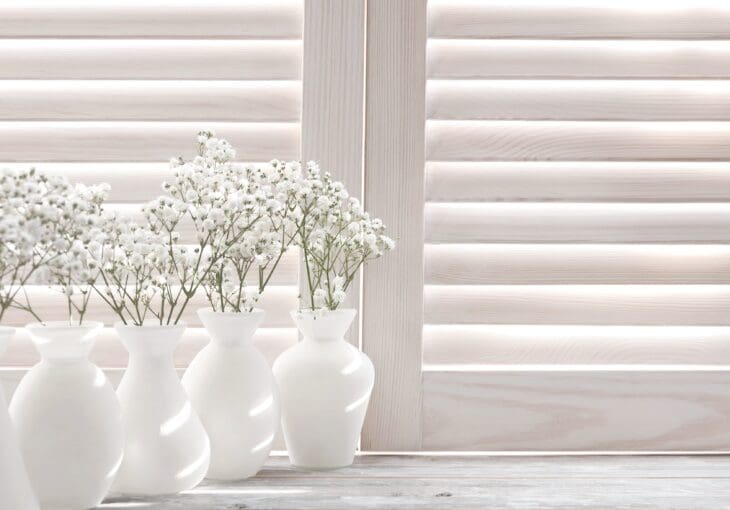 Choose a Stress-Free Fitting
The fitting process of our blinds in Leeds is simple, effective and wholly complete. We don't leave a stone unturned, or blinds imperfect.
Fittings can be scheduled on a day most convenient for you, carried out by an experienced, small team of CSCS approved professionals who will quickly and efficiently install your blinds or shutters.
As a result, our fittings are always quick and simple. Expect your fitting to be completed on the same day – unless it's an especially large job! Rest assured, being a family-run business with years of experience, you can place your trust in our installation process.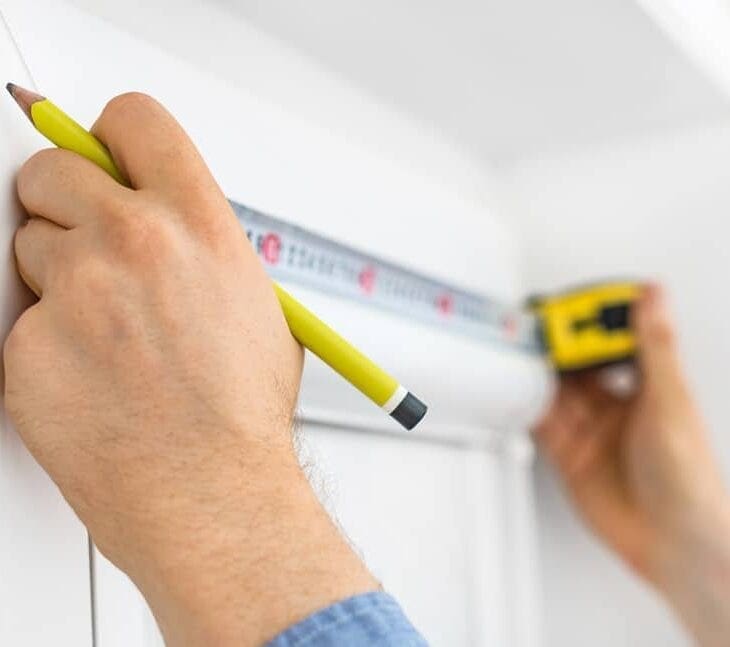 Ready to start your design journey with Solaire Blinds?
Visit our Leeds showroom or get in touch to book a free home visit as soon as possible! We'll measure your space, and show samples at a time best for you. We make blinds Leeds residents review as beyond their expectations time and time again.