Arrange a free home visit
ROMAN BLINDS IN LEEDS & WAKEFIELD
What are Roman Blinds?
Roman Blinds are made from fabric and open using a chain or cord mechanism. The fabric stacks up evenly when being opened, and when fully open appear smooth, clear and without dents. They add style, sophistication and elegance to the room, making it seem welcoming and comfortable.
Roman blinds are made using a fabric which is designed to pleat when the blinds are raised, which is how it stacks evenly. The blinds use mounting slats that are connected to cords, which are pulled together when the blind is lifted, forcing the blind to fold into the signature pleats. 
There are a range of different fabrics that can be used for Roman blinds. From silk and cotton to linen and synthetic fabrics, there are a wide range of different fabrics available for use to be designed as Roman blinds. 
It's one of the reasons that Roman blinds are such a popular alternative to curtains. In fact, they sort of bridge the gap between curtains and blinds. They provide the same warmth and blackout as curtains, with all the great space saving and convenience of blinds. With so many patterned fabrics available, there's a wide variety of different colours, patterns and textures available for you to choose from when picking out your Roman blinds. 
Roman blinds allow you to control the light coming into your home or office incredibly quickly and easily. Adjustment based on the time of day or the current season is easily performed, and blackout options are readily available if you're looking for an option that provides total darkness. Want a more energy efficient solution? You can even add thermal lining to your Roman blinds. 
Roman blinds can be easily fitted either inside or outside the window recess. Fitting them outside the recess can allow for increased light and is easy to install, whereas inside the recess can save space and provide even greater blackout. 
Why do people choose Roman blinds from our stunning collection and our gorgeous range here at Solaire Blinds? Well, they are easy to use and install, and they look absolutely fantastic. Our huge range of high quality Roman blinds has something for everyone, with a range of affordable and luxury blinds of varying fabrics and sizes.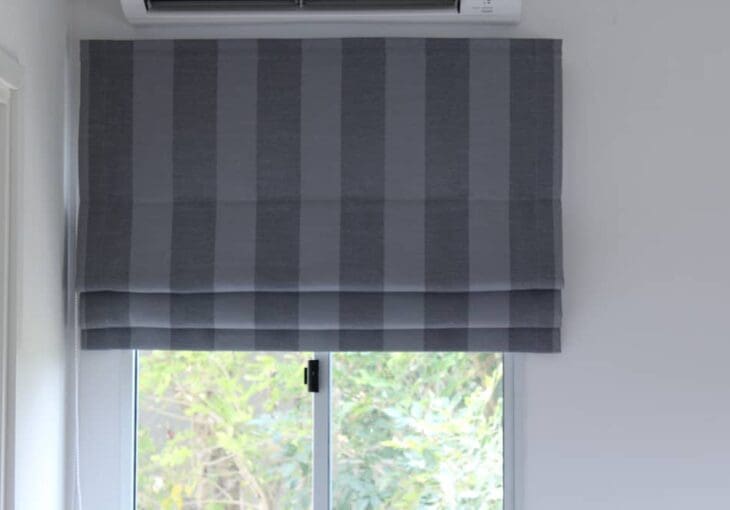 Which Roman Blinds Do We Offer?
We offer a wide variety of fabrics featuring eye-catching patterns, a range of colours and fabrics spanning plain, textured, print and classic weave designs from all major UK suppliers. Our blinds are made to measure, ensuring your window is suitably covered, and made to fit in with your particular requirements, such as the inclusion of a thermal of blackout lining.
Our standard headrail is the white Deluxe headrail which is child safe. We also offer a range of control colours such as stainless steel or brass for a more striking finish.
What Are The Benefits Of Roman Blinds?
There are many benefits to having Roman blinds installed in your home. They are a mixture of a curtain and a blind, so they add the warmth and cosiness of a curtain, whilst having the practicality of a blind. With the huge variety of fabrics, textures and styles that we have on offer, we will be able to create you the perfect look for any room.
A variety of fabrics, patterns and colours to choose from.
Ability to blend into the room or make a statement.
With a thermal lining aids insulation and warmth.
With a blackout lining gives effective light control.
Roman blinds are versatile
One of the reasons that Roman blinds have long been a favourite of interior designers is the fact that they are incredibly versatile when it comes to style and aesthetic. In fact, Roman blinds can be used to work seamlessly with just about any interior design. This means that Roman blinds have never gone out of fashion – and likely never will. 
Whatever your preferred choice of style, there's a type of Roman blind to suit you. Want something decadent, bright and patterned? No problem. Want something sleek and minimalist instead? There's a Roman blind perfect for you. 
Which Rooms Are Good For Roman Blinds?
Whether you're moving into a new home, renovating a property or anything else – if you are looking to decorate your home with entirely new window coverings and blinds, we wouldn't be at all surprised if Roman blinds have caught your eye.
After all, Roman blinds combine the benefits of curtains and blinds together for a unique solution. The best part? Thanks to the huge range of gorgeous and patterned fabrics available, Roman blinds are great for use in just about any room in your home. Wherever they are installed, Roman blinds add a level of sophistication and elegance to your home. 
Perhaps most popular in living rooms, dining rooms, bedrooms and conservatories, Roman blinds offer great light blocking properties making them a great choice for south facing rooms that deal with harsh sunlight throughout the day. Many people who choose Roman blinds do so because they provide the more furnished look offered by curtains, while offering all the great functionality and benefits of blinds.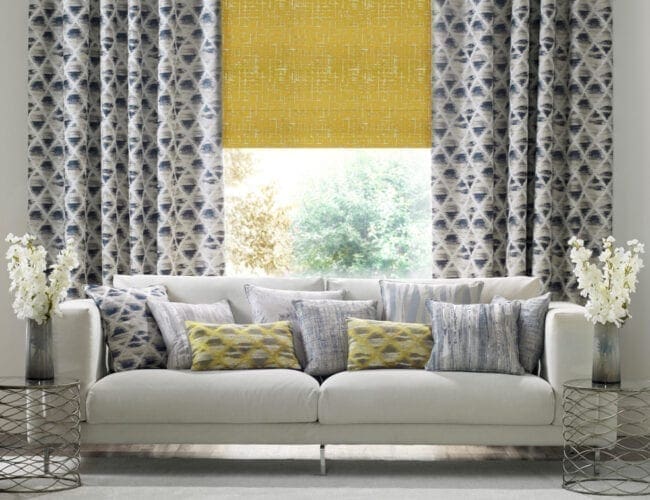 Can Roman Blinds Be Made From Any Fabric? 
One of the great selling points for Roman blinds is that they are a traditional blind system that actually uses fabric, giving that great furnished and elegant style and appearance. With that in mind, you might be wondering about which fabrics are available for you to use. Fortunately, when you choose Solaire Blinds to supply your Roman blinds, you'll benefit from our gorgeous range of Roman blinds made with a variety of high quality materials. 
When it comes to deciding what fabric you want to use for your Roman blinds, your choice of material is about as wide ranging as your choice of colours, patterns and styles is. Generally speaking, Roman blinds can be constructed using just about any good quality curtain fabric.
Guidance from the British Blind & Shutter Association
Here at Solaire Blinds, we're proud members of the British Blind and Shutter Association (BBSA). They're a trade association for companies that manufacture, supply and install blinds and shutters, meaning we're fully up to date with all the latest regulations, best practice and training when it comes to supplying and fitting your blinds or shutters.
You can find more information about Roman Blinds and their standard characteristics in this handy guide from the BBSA. If you have any questions about any of our blinds or shutters, please get in touch with our experts who'd be more than happy to help.