Arrange a free home visit
DAY & NIGHT BLINDS IN LEEDS & WAKEFIELD
Day and night blinds work much like our bespoke roller blinds but feature two layers of fabric – each with translucent and opaque stripes. These two layers slide past each other as the blind is raised or lowered, allowing the user to moderate the levels of light that shine through into the room.
Whether your day and night blinds are operated in a manual or motorised fashion, they will have two main positions: closed, where opaque panels are displayed alongside each other for complete privacy, and open, where clear and solid stripes appear together to let just some light enter.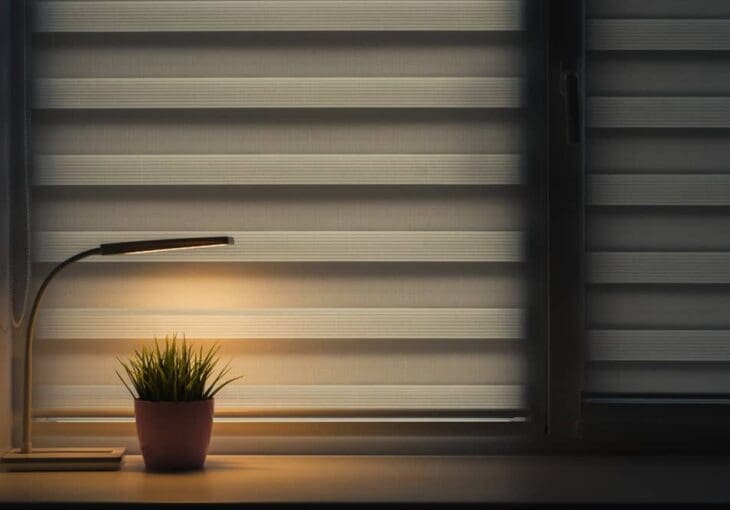 What Are Day & Night Blinds?
Day & night blinds are so-called as they can accommodate both daytime and night time needs when it comes to control over light. On a basic level, the blind can be adjusted in such a way that it forms one solid block of colour and largely prevents sunlight from trickling into the room at all.
However, the clever design of these blinds makes them suitable for satisfying a huge range of specific lighting requirements. Using a combination of translucent and opaque panels, you can filter light to just a partial degree and continually tweak this to suit your needs.
Of course, you can shift all of the solid stripes into place in order to achieve an especially high level of privacy. However, as with a roller blind, a day and night blind — whatever the orientation of its fabric stripes — can still be slightly rolled up to allow fresh air to enter the room.
What Else Are Day & Night Blinds Called?
We have already mentioned two alternative terms for them: 'zebra blinds' and 'vision blinds'. However, you might have also noticed them being referred to as mirage blinds or duo roller blinds, while they are sometimes even called night and day blinds.
This larger emphasis on night time use of the blinds does, however, reflect their effectiveness as night blockout blinds. If a certain amount of sunlight tends to reach your bedroom while you are trying to sleep, blockout blinds could help.
This is because blockout blinds have been credited with promoting a good night's sleep — especially in people who are more sensitive to light exposure than others. These blinds can also help you to stay asleep once you are in the land of Nod.
Day & Night Blinds Are Visually Distinctive
These blinds are immediately recognisable from their horizontal stripes, which differ not just in colour but even in their fabric. These two day & night blind fabrics have essentially been stitched together to form just one sheet, albeit an undoubtedly long one.
When you contact our Leeds-based Solaire Blinds team to order some new blinds, you can take comfort in our ability to provide vision blinds in various fabrics, colours, patterns and textures. Basically, we can provide you with blinds that look 'just right' for their intended location.
Guidance from the British Blind & Shutter Association
Here at Solaire Blinds, we're proud members of the British Blind and Shutter Association (BBSA). They're a trade association for companies that manufacture, supply and install blinds and shutters, meaning we're fully up to date with all the latest regulations, best practice and training when it comes to supplying and fitting your blinds or shutters.
You can find more information about Day & Night Blinds and their standard characteristics in this handy guide from the BBSA. If you have any questions about any of our blinds or shutters, please get in touch with our experts who'd be more than happy to help.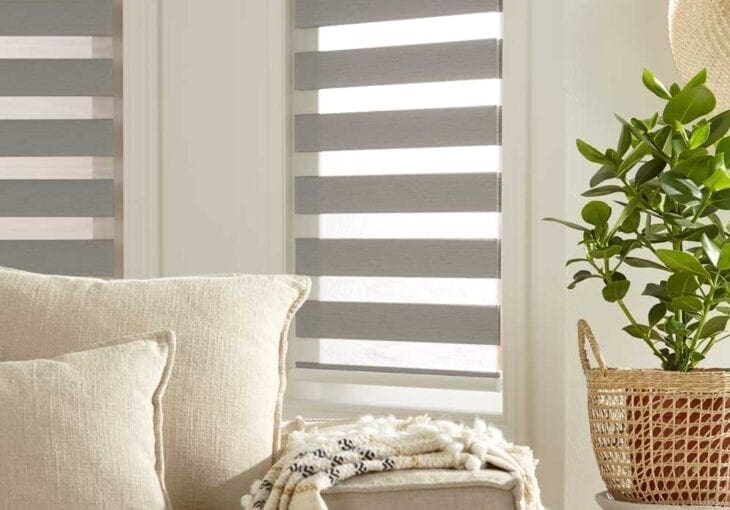 Which Day & Night Blinds Do We Offer?
All of the day and night blinds we offer are sourced from Louvolite and Eclipse — both respected purveyors of zebra blinds, as blinds of this layered style are otherwise known.
This gives you an impressive choice of styles for your day and night blinds — with wood weave, sheer metallic, tricolour and subtle options all available. These blinds come in a range of colours to suit the differing aesthetic needs and preferences of our clients in West Yorkshire.
This extends to the blinds' headrail. Though the standard headrail we offer for day and night blinds is white aluminium, you can alternatively choose a headrail in either black — such as to achieve a framed effect — or a fabric matching the blinds' main style.
Your blinds can also be provided with either an open or closed cassette. The latter will make for a sleeker look as well as conceal the blind's fixings and workings.
How Do Day & Night Blinds Work?
The two layers of day and night blind fabric can be rolled both into and out of a roller tube. Hence, a day and night blind can be seen as a kind of roller blind, except with alternating solid or non-see-through stripes enabling the user to block light in more of a moderated way.
You might not have realised that the two fabric layers are actually just one piece of fabric. This loops around from the top tube, beneath the bottom bar and back to the top — resulting in what you might have initially assumed to be two entirely separate layers of fabric.
How to Use Day & Night Blinds
When you roll the blind up or down, its fabric will move on both the front and back of the tube. This means that you are able to carefully align the stripes in a range of formations.
So, you could go for alternating opaque and sheer stripes, have a series of opaque stripes arranged in a row for a 'blockout' effect, or settle for something in between these two main options.
What Are The Benefits Of Day & Night Blinds?
Day & Night or Vision blinds create the perfect balance of privacy and light control, whilst also adding aesthetic appeal to your home with the many different textures and shades that are available to you in this stunning range.
Greater light and privacy control than most standard blinds.
A wonderful choice of fabrics, colours and patterns that match your room's décor
Can be manually or electronically operated.
Insulation is enhanced.
Day & Night Blinds Combine Simplicity with Flexibility
Day and night blinds do differ from roller blinds in the sense that, with the latter, the fabric rolls up and down the tube just one way. With day and night blinds, however, the fabric rolls right around in a continuous loop, with it going both up the front and down the back of the blind.
The scope of customisation that is possible with day and night blinds might remind you of Venetian blinds, which also offer the same flexibility when it comes to privacy and light control.
Nonetheless, a day and night blind can be either raised or lowered, and either fully or partially, like any roller blind. They are therefore delightfully simple to use, while still offering a broad breadth of functionality.
Which Rooms Can You Use These Window Blinds In?
The good news is that, due to the versatility of day and night blinds, they can potentially be used in pretty much any room of the house. Still, some rooms are better suited than others to these window coverings.
So, let's have a look at multiple rooms in turn…
Living Room
While you naturally wouldn't want sunlight to cause glare and reflections on the screen of your living room TV, the room could have some plants that rely on sunlight for growth.
It's convenient, then, that day and night blinds installed in living rooms can provide the best of both worlds. As living rooms also tend to be on the large side and so relatively costly to heat, the thermal efficiency of these blinds can prove a real boon as well.
Home Office
The ability of day and night blinds to filter light means that, in a home office, they can achieve a similar balancing act to what is possible in the living room.
For example, while these blinds can prevent daytime light from casting pesky glare and reflections on your computer screen, you can still get enough of that incoming light to fuel your productivity.
Dining Room
This is another room where day & night blinds can work wonders on the insulation front. As you could understandably be too preoccupied with the succulent food on the table to have much time to adjust the thermostat, these blinds can take up much of the slack.
Conservatory
In a conservatory, day and night blinds can have an array of benefits. For a start, they can be made in relatively large lengths and widths to suit the generally unorthodox size of conservatory windows — which, on account of this size, could be letting a lot of heat pass through.
Fortunately, high-quality conservatory blinds can serve as barriers that help to prevent too much heat from entering during the summer and too much heat from escaping at colder times of the year.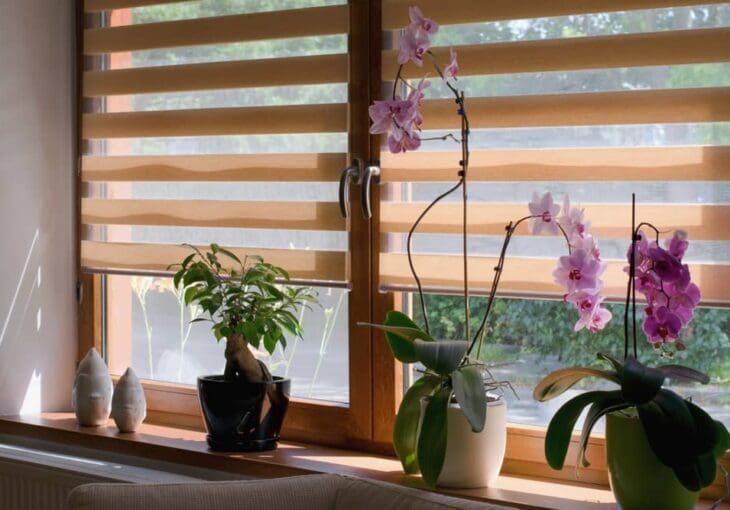 How Do You Measure Your Windows for Night & Day Blinds?
As you'd expect, when it comes to measuring your windows for a blinds installation, there are certain dos and don'ts to follow. With our experience in fitting day and night blinds, we can guide you on how to make accurate measurements for passing onto our installers.
Exactly what you do measure will depend on whether the window has a recessed space and, if it does, whether the blind should be put up inside or outside of it. The 'recess' of a window refers to the distance from the window plane's surface to the wall where the window has been inserted.
How to Assess a Recess
Usually, it is better for a day and night blind to be fitted outside of the recess. This is because, if fitted within the recess, the mechanism for the blind will need extra space and so could end up widening the gap between the wall and the blind, hampering the blinds' effectiveness. To avoid this, it's best to install your day and night blind just above the recess height.
Measure the window width before adding an extra ten centimetres or four inches to the total. This will allow an overlap of five centimetres or two inches on each side of the window, ensuring that the installed blind will be able to more effectively block out light. You will also need to add a further ten centimetres or four inches to account for the blind's operating mechanism.
We will only be able to install a vision blind outside a window recess through the use of a bracket above that window. Here, it is important to measure the length from this track or bracket right down to where you would like the bottom edge of the blind to rest.
Need further guidance on making window measurements?
The above is far from the full extent of our expertise on this subject. If you still need help, feel free to consult our guide on how to measure for vision blind installations.
Find the Perfect Blinds with the Solaire Blinds Team
Day & night blinds offer a level of versatility unmatched by many other types of blinds. You also have a wide range of options to customise the aesthetic appearance of these blinds.
So, you can soon start benefiting from blinds that are effective at light filtering as well as augmenting or complementing the room's existing decor — whether this is more traditional or contemporary in style.
Known for our excellence in crafting bespoke blinds in West Yorkshire, we can closely assist you in deciding on the exact design for your blinds.
Want to arrange a home visit from a day & night blinds specialist? 
Call the Solaire Blinds team on 0345 222 0138, and we will send a friendly and qualified technician to your West Yorkshire home. During this consultation, we will be more than happy to talk you through a range of style options to help you choose the perfect day and night blinds for any room.
We also fit vision blinds at commercial properties too. These blinds can be designed and installed in a manner that is sensitive to your brand's established image and makes it easier for your company to foster an enviable reputation in its field.
Whether you want your day & night blinds to provide a punch of colour or give off more of an airy style, we can meet this requirement and even visit your West Yorkshire domestic or commercial property to install the blinds for you.
Ready For Your Free Design Visit?
Get in touch today to find out more about our Day & Night Blinds and to organise a home visit.
Call 0345 222 0138 or use our contact form.