Arrange a free home visit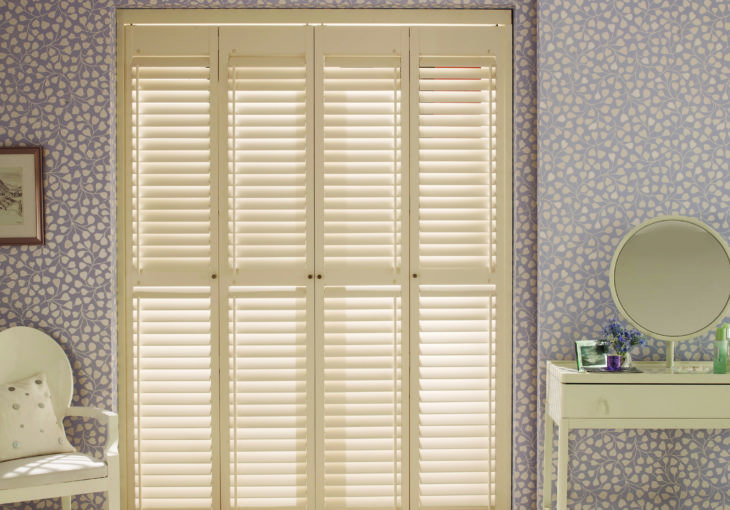 What Are Plantation Shutters And What Are They Made Of?
Plantation Shutters originate from the American South and were used to combat the humid weather. They became popular after Spain invaded and colonised America but were very popular in Mediterranean countries such as Portugal and Italy beforehand. The term plantation was coined because they were installed in the houses of plantation owners who owned mansions on cotton and sugar fields in the American South.
At Solaire Blinds, our Plantation Shutters are made of adjustable slats or louvres consisting of high-quality MDF, hardwood or plastic. Though our weather in the UK may be cooler, these shutters have grown in popularity, providing both traditional and modern homes with a fashionable look.
These beautiful wooden shutters were initially added to increase security, reduce noise and control the level of light entering a room, but soon became a very popular interior design choice. Plantation Shutters are usually fitted to a window or door frame for full light and privacy control and function using a tilt rod. Even if your frame is arched or triangular, your shutter will fit perfectly because it's bespoke.
What Is The Difference Between Traditional Shutters And Plantation Shutters?
Traditional shutters are usually solid and are there to ensure no light gets through and to add an extra layer of security. Unlike Plantation Shutters, they don't allow you to control the amount of light entering the room.
Plantation shutters, on the other hand, are louvred, meaning they feature adjustable slats which allow you to control the amount of light coming into the room.
What Are The Benefits Of Plantation Shutters?
We custom-make your chosen plantation shutters for your window. No matter the shape or size, you can rest assured knowing that the plantation shutters you choose will fit perfectly.
Our Plantation Shutters are available in over 50 different colours, finishes and styles.
In just one installation Plantation Shutters provide your home, apartment or flat with an up-market, stylish aesthetic that really refines the room.
Plantation Shutters insulate and ventilate your home when necessary and thanks to their versatility, save you money on heating and air conditioning bills.
They're great for controlling sound, light and privacy control.
They're easy to clean and maintain, as well as to use.
They are weather-resistant, waterproof and therefore built to last, making them a great investment.
Solaire Blind's Louvre Size Guide
When it comes to having bespoke Plantation Shutters, the devil is in the detail, which is why our louvres are available in five different slat sizes. Louvres need to be chosen in relation to the size of your window.
Louvre size guide:
47mm
63mm
76mm
89mm
114mm
Tilt Option
With Plantation Shutters from Solaire Blinds, you can have the option of opening and closing your louvre slat with or without tilt rods. Your tilt rods either run down the centre of the shutter panel or they can be set to the side to give a sleeker look.
Or you can choose our Easy Tilt option. Simply open and close the slats with your fingertip and the rest will follow – it's that easy!
Which Plantation Shutters Do We Offer?
We supply the fantastic and versatile Sandringham range of Plantation Shutters. This includes:
Classic
The always affordable and popular Classic is made from MDF coated with polymer making it strong, durable, smooth and gives it that elegant aesthetic. The Classic is available in five shades of white together with some creams and greys and is perfect for children's bedrooms and patio doors to cater for potential knocks.
Marchwood
The multi-purpose Marchwood is made from hardwood panels with MDF frames that are easy to maintain, stylish and strong. The Marchwood is available in 23 shades of whites, creams and greys and work well in all rooms and windows throughout the house.
Kingston
The customisable Kingston is made from premium wood frames and panels and is available in 18 painted and 21 stained finishes. When stained, the wood keeps its marvellous texture and is especially great for shaped windows.
Cleveland
The sophisticated Cleveland is made from materials including ABS louvres and MDF panels and frames ensuring it is lightweight yet tough. Available in 18 painted colours and works well in rooms such as the kitchen and bedroom.
Vienna
The waterproof Vienna is made from ABS and is as adaptable as it is resistant. It works just as well in the bathroom as in the kitchen and is available in 6 stunning colours.
The Shutter Styles Range:
Tier-on-tier
The top and bottom panels operate independently, offering fantastic flexibility.
Café style
Bring a European look to your home with these stunning shutters. They cover the bottom half of your window, allowing light to seep through while ensuring privacy.
Full height
A popular choice. Full height covers the entire window and each panel opens from top to bottom. The louvres can be separated by a mid-rail or split for more control.
Tracked
Great for large glass expanses or doors like french windows and patio doors. These shutters slide on a track for ease of access.
Solid
Solid panels are present here, as opposed to louvres. These shutters offer full coverage for your window.
Shaped shutters
Perfect for original architecture or awkwardly shaped windows. We have solutions that cover a wide range of solutions, portholes, arches and angles.
How Much Are Plantation Shutters?
Each set of plantation shutters we make are bespoke and unique to you. Therefore, the cost fluctuates depending on the scale of the job, the materials needed and the amount of time it takes our team to finish them.
Check Out Our Customer Reviews
We've been fitting Plantation Blinds for the people of Leeds, Wakefield, Dewsbury, Morley and other surrounding areas for years. In case you need a bit of extra convincing why not look at a few of our customer reviews?
Book A Free Consultation Today
Get in touch today to find out more about our Plantation Shutters and to organize a home visit. Sophistication is just a shutter away.
Our Accreditations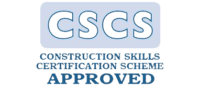 15% Discounts for