Arrange a free home visit
VERTICAL BLINDS IN LEEDS & WAKEFIELD
What are Vertical Blinds?
Vertical blinds are a popular choice of window blinds. They are made up of vertical louvres or vanes, which are attached to a sliding track at the top. At the base, they feature chains that hold the vanes together.
Vertical blinds are incredibly popular for both residential and commercial use. They are easily operated by a wand, which is 100% child safe, or a chain and individual cord. The cord opens and closes the blind, whereas the chain or wand rotates vanes for light filtering.
At Solaire Blinds, you can expect a wide collection of colours, designs, and fabrics to choose from. Our range of premium blinds can easily match the colour scheme of the room or be used to create a stand-out look that adds noticeable sophistication and style to the decor.
Which Vertical Blinds Do We Offer?
At Solaire Blinds, we supply a stunning collection of vertical blinds in Leeds to fit every style and budget – no project is too big or too small.
We offer made-to-measure vertical blinds, which are especially great for wide windows as they let large amounts of natural light in without compromising on privacy. They are also great for bi-fold and patio doors, as they'll let in a cool breeze on summer nights, even when it's dark outside.
Let's take a closer look at the available options:
Wide Range of Materials & Colours
When choosing from our vertical blinds range, you'll be spoilt for choice of colours, finishes, and materials. Whether it's laminates, metallics, or PVC you're after, we have no shortage of options for you to peruse.
Are you feeling creative? At Solaire Blinds, you can pick up to three colours or designs for your vertical blinds. This way, you can customise and create a striking pattern or gradient, making your windows stand out in style.
Protective Coating & Anti-Glare Blinds
We provide blinds with a difference, offering waterproof bathroom blinds for boosted longevity. This coating helps to prevent mould or mildew from growing in rooms that experience greater condensation and damp.
Incredibly versatile and available in the same beautiful colours, prints, and textures as our regular vertical blinds, this option also works well as bespoke conservatory blinds or kitchen blinds.
We also offer a range of extras such as anti-glare blinds (great for summer) and blackout night & day blinds (great for improved sleeping and privacy), as well as blinds that are antibacterial and pollergen treated, helping relieve hayfever sufferers – yes please!
Child Safety Features
If you have young children, ask us about our child safety 'Mono Control' option, which is available at no extra charge. Instead of having two looped cords to control your blinds, mono-controlled blinds have a wand you can twist to rotate the individual vanes. You can also push and pull the blinds along the track to adjust the level of privacy they're providing.
This versatility means you don't have to worry about your curious little ones getting tangled up in the corded blinds!
Why Choose Solaire Blinds?
At Solaire Blinds, we are dedicated to helping our customers get great-looking, great-value blinds and curtains for their homes. We are passionate about helping people decorate their homes and offices with striking and beautiful curtains and blinds that look amazing and suit the personality of your home.
Our blinds are fitted bespoke to your home, and our dedicated team of fitters will be there to help you every step of the way.
What You Can Expect from Our Personal Service:
Like-for-like quote matching to get you the best possible price
Huge range of perfect-fit blinds to hang flush to your window or door fixture
Most blinds manufactured in our warehouse in Leeds, meaning quality is assured with every fitting
Residential and commercial office blinds available
Significant trade discounts, depending on your order
Specialist fitting service for hassle-free installation
Free design service
Free no-obligation consultation
Guidance from the British Blind & Shutter Association
Here at Solaire Blinds, we're proud members of the British Blind and Shutter Association (BBSA). They're a trade association for companies that manufacture, supply and install blinds and shutters, meaning we're fully up to date with all the latest regulations, best practice and training when it comes to supplying and fitting your blinds or shutters.
You can find more information about Vertical Blinds and their standard characteristics in this handy guide from the BBSA. If you have any questions about any of our blinds or shutters, please get in touch with our experts who'd be more than happy to help.
What Are the Pros and Cons of Vertical Blinds?
Pros of Vertical Blinds
Superior light and privacy control
Great for the inner designer, due to mix and matching options
Easily replaceable slats (should one get damaged, you won't have to shell out on a whole new set – simply buy a replacement slat)
Can include extras and finishes that prolong their look, functionality, and durability
Made from heat-reflective, blackout, and flame-retardant materials
Won't accumulate dust, especially if you opt for an additional protective coating
Cons of Vertical Blinds
As there are gaps between the slats, they do not offer 100% blockout
Can be noisy – since they're made up of individual slats, they can knock together when adjusting the blinds
Not ideal for narrow windows (simply, there is too little space)
Of course, the type of blind that will best suit your home or office will depend on its aesthetics and your needs. If you're still unsure of what to choose, explore the rest of our quality window blinds range for more options – we're confident we'll have the perfect pick for you!
Coatings That We Offer at Solaire Blinds
Our vertical blinds are so incredibly versatile, not only because of the huge array of colours, sizes, lengths, and patterns we can create but also due to the finishes and extra options available.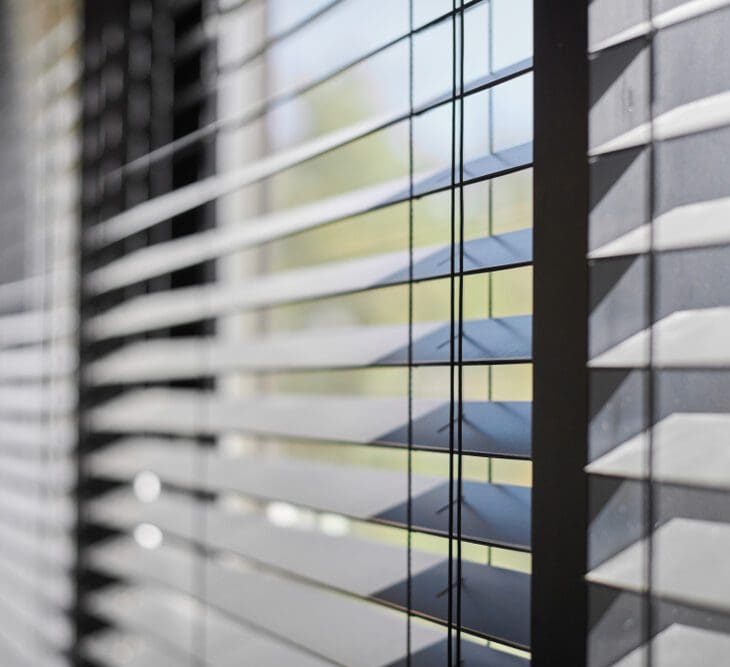 Anti-Glare Coating
At Solaire Blinds, you can opt for an anti-glare coating to be added, which will help reduce sun glare in sun-facing windows and glass doors. While regular vertical blinds can help to reduce sun glare at certain angles, anti-glare vertical blinds give that added protection.
If your blinds will be shielding a window that impacts any screens, this is particularly useful – a TV, for example, making them great as living room blinds, or even office blinds to help reduce any glare on laptop and computer screens.
Waterproof Coating
For an extra layer of privacy in the bathroom, waterproof coatings can be added to make ideal bathroom blinds. This ensures you get all the regular benefits of vertical blinds, including privacy and maximised natural lights, in a bathroom setting.
Waterproof coatings can also be added to blinds in the kitchen to ensure that they stay hygienic and that nothing dangerous is growing on the fabric, especially in areas where there is usually a lot of steam, heat, water, or grease.
Pollergen Coating
We can also add the groundbreaking Pollergen coating by Louvolite, which is a life-saver for hayfever sufferers. Taking advantage of the naturally sticky properties of pollen, the Pollergen coating catches this pollen by including a 'tackifier' in its formula. This helps to catch 50% of grass pollen before it enters the house, but it doesn't stop there!
The Pollergen coating also kills the active element in pollen, denaturing it and making it completely harmless to hayfever sufferers. Moreover, the active Pollergen formula is constantly regenerating and migrating to the surface of the fabric, ensuring its long-term effectiveness.
Pollergen-treated fabrics can be washed and wiped down as usual. If you have suffered with pollen allergies and hayfever, you might find that Pollergen-coated blinds can really improve your home comfort levels.
Alternatives to Our Vertical Blinds
Not quite sure that vertical blinds are for you? That's okay. With the vast array of blinds available, it can certainly be a tricky choice to decide which style to go for.
If you're seeking blinds installation in Leeds, then be sure to explore some of our other popular blinds:
Vertical Blinds in Leeds: Your Questions Answered
So that you make the right choice on which blinds best suit your home or office, here are some answers to common questions we get asked.
Are Vertical Blinds Cheaper than Curtains?
If you're after a simple, no-nonsense blind for your home, vertical blinds are typically cheaper than curtains. They're designed to be easy to install too, so chances are you won't have to run up any further costs when it comes to getting them fitted.
At Solaire Blinds, we keep our prices affordable for everyone and will beat any like-for-like quote to give you the best possible price. With us, not only will you get a quality product that will stand the test of time, but you'll also be benefiting from an improved home aesthetic without having to delve too deep into your funds.
What Is the Best Way to Clean Vertical Blinds?
If you're interested in purchasing some new blinds but are worried they'll be tricky to clean, it's good news. The opposite is actually true, with this type of blind being a gem of a chore when it comes to keeping them looking neat.
Keep your blinds looking fresh in 4 simple steps:
Carefully remove all of the blind slats from the headrail.
With a cloth, apply lukewarm soapy water to remove any dirt (to be extra thorough, submerging them in a bathtub with a cup of baking soda can help)
Lay slats flat to dry.
Once dry, hang the slats back on the headrail.
Of course, the type of fabric of your blind may impact the best way to clean them. So, for a more detailed cleaning approach, we recommend that you check out our How to Clean Blinds blog so that you can match your cleaning technique to your exact blind type.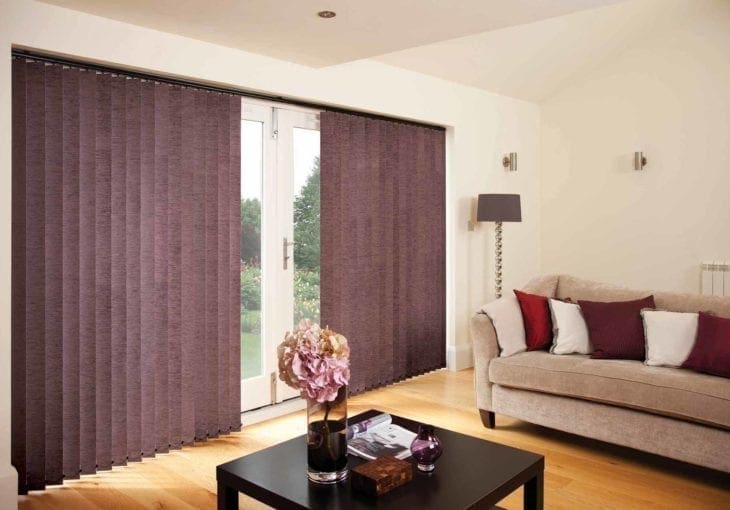 Are Vertical Blinds a Good Choice?
Vertical blinds are very easy to use and make a great choice for anyone wanting both privacy and to maximise the amount of natural light in the room. As the vanes can be adjusted and rotated, they are also perfect for rooms that face the sun, as they can be moved throughout the day to let light in while reducing glare from the sunlight.
Still got a few more questions you'd like to ask? At Solaire Blinds, we're always just a phone call away – call us on 0345 222 0138 today if you'd like to speak to a member of the team.
Ready for Your Free Design Visit?
If you're looking for vertical blinds in Leeds, you've come to the right place.
At Solaire Blinds, we specialise in keeping windows large and small – across Leeds, Wakefield, and beyond – looking great. Our wide range of made-to-measure blinds is not to be missed. We guarantee premium quality in the fabrics we select and ensure each new set of blinds is tested to the utmost degree before it exits our warehouse here in Leeds.
To find out more about our vertical blinds or to request your free design consultation, contact Solaire Blinds today on 0345 222 0138. You can also head over to our blinds shop in Wakefield to speak to one of the team in person.