Arrange a free home visit
Every home deserves the utmost respect, which is what our bespoke high-quality blinds are here to provide. Whether you are looking to update your blinds or refurbish your whole property, look no further than Solaire Blinds.
Choosing the right blind can seem like an arduous task – with endless questions like "What blinds should I get?", "What colour should I choose?", and "What blind design is the best?". However, with Solaire Blinds, you don't have to worry about that! With our free, no-obligation home consultation, we will observe your aesthetics, needs, requirements, budget, and measurements, and tailor-make the perfect blinds for you.
Our Range of Blinds – From the Living Room to the Bedroom
We have a wide range of stunning styles, designs, and colours of blinds that are suitable for every room, every home, and every property. From the living room to the bedroom, let us take a look at some of the solutions we have to offer, with some top tips and tricks for what to look for when choosing the right blind for each room.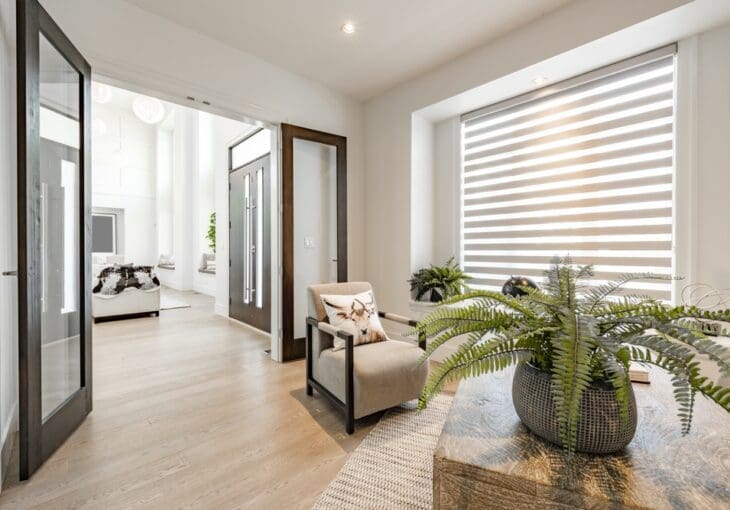 Living Room Blinds
At Solaire Blinds, we offer a wide range of luxurious blinds, in a variety of colours, ensuring that we have the perfect solution for your living room, no matter what type of blinds take your fancy. The range of colours varies from natural tones to bold patterns so you can get the perfect blinds to suit your living room aesthetic.
Whether you like lots of natural light or accurate light control, our living room window blinds are suited for modern living, boasting comprehensive privacy control and light control options. So, if you are looking for a change from living room curtains, here are some of our living room window blind recommendations, all of which boast excellent customer reviews.
Vertical Blinds
Living room vertical blinds offer high levels of control over the amount of light you let in – perfect for the main relaxation space within your home. Suitable as both day and night blinds, vertical blinds can be fitted with a blockout layer or anti-glare surfacing for maximum privacy.
If you have small children who like to play in your living room, don't worry about any tassels or cords – we can design your vertical blinds with child-safe mono control at no extra cost.
Roman Blinds
For the coverage of living room curtains, but the practicality of a blind, these Roman pleated blinds are a timeless classic. Whether you opt for a bold shade or a neutral grey Roman blinds, you can be rest assured that the aesthetic will not come at the cost of its practicality – Roman blinds come with the option of thermal and blockout linings on request.
Panel Blinds
Panel blinds are arguably the most flexible of our home blinds, suitable for every room in your home no matter the size – from large living rooms to small office blinds – even as commercial blinds. We will simply measure the space you need to cover – even if it's for a floor to ceiling window – and determine how many panels you require.
Panel blinds are modern and minimalist, offering simple, effective light control. Even better, they are very low maintenance as panel blinds from Solaire Blinds don't collect dust.
If you would like to speak to one of our blinds experts about the aforementioned living room blinds, or for more suggestions such as Venetian blinds, wooden blinds, blockout blinds, or a custom roller blind, get in touch today about a free home visit or price estimation.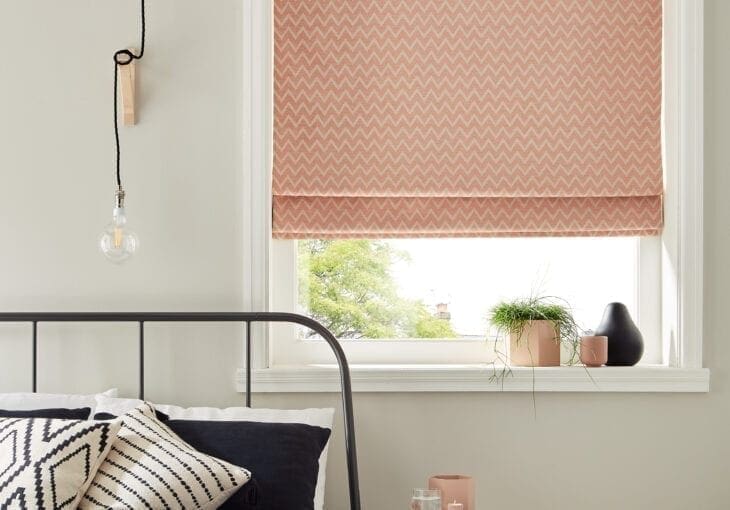 Bedroom Blinds
Our bedrooms are our safe haven, the place that we relax after a long day at work, recuperating before the next day's tasks. Thus, it is essential that every aspect of the bedroom should have a luxurious finish – even your choice in window blinds.
With bedroom blinds, keeping the room dark is their primary objective. Bedroom blinds should help you signal to your body clock that it is time for bed, or time to wake up, which is extremely important for those who work night shifts, struggle with insomnia, or for newborn babies.
Whether you opt for wooden blinds, Venetian blinds, or another choice from our vast range of bedroom blind styles, Solaire Blinds has the perfect solution for you. Our made to measure blinds are available in a range of colours, styles, and with additional features.
Roller Blinds
A roller blind is one single piece of fabric, so, when tailored to your window recess, can provide a truly seamless fit. Our roller blinds come with a blockout option, keeping your bedroom dark when it is time for rest, and allowing natural light in when it is time to wake up.
When not in use, roller blinds are incredibly convenient and compact, allowing you an unrestricted view through your bedroom window.
Roman Blinds
Roman blinds insulate your bedroom in a similar manner to bedroom curtains, but with the added benefit of being sleeker and saving on space. This makes Roman blinds a fantastic option for small bedrooms and babies' nurseries.
For the early risers, Roman blinds can also be fitted with a blockout lining, allowing night shift workers and small children to sleep even when the sun is in the sky.

Specialist Vertical or Wooden Blinds
Some vertical blinds and wooden blinds are not suitable for use in bathrooms, so always check out the product description and customer reviews. However, here at Solaire Blinds, we offer specialist bathroom vertical blinds and bathroom wooden blinds that are treated to repel the extra humidity.
In addition to this, our vertical bathroom blinds can also be fitted with a motor, allowing you to put the motorised vertical blind up and down at the touch of a button, with no need for physical activity or risking violating your privacy.
Waterproof Roller Blinds
Bathroom roller blinds are easily adjustable to determine the level of privacy that you require, as well as being easy to clean and maintain due to their waterproof finish. If you often find yourself with your hands full after a soak in the tub, why not consider motorised roller blinds, which roll up and down at the simple press of a button.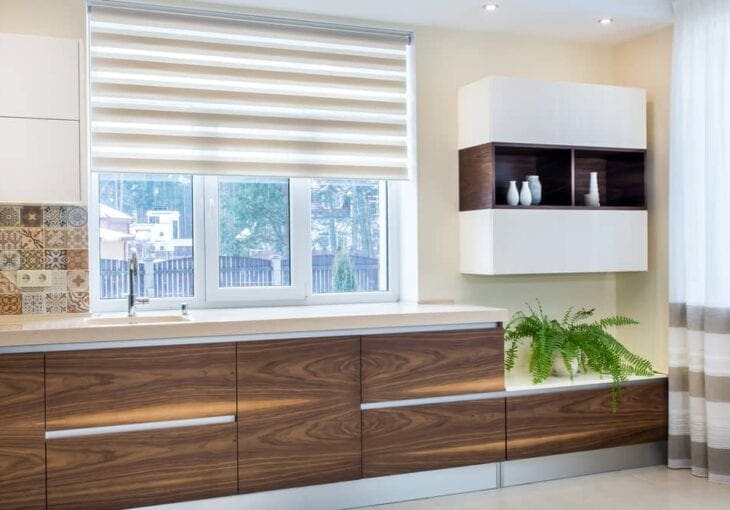 Kitchen Blinds
The kitchen is the heart of every home – the place where we entertain, eat, cook, socialise, and relax. Therefore, it is crucial to get the right balance between letting in natural light, whilst also covering kitchen windows overnight for peace of mind.
Here at Solaire Blinds, we have the perfect solution for every kitchen environment – all blinds are protected from heat and smoke, water-resistant, offer optimum light control, and reduce heat loss from your kitchen.
Our extensive range of kitchen blinds come in a range of colours and materials, with 11 types of bespoke kitchen blinds to choose from. Our wooden window blinds and sliding blinds are effective at limiting natural light, and our fabric blinds are a more subtle, cost-effective option.
So, from the practical choice to choosing a bold design idea, let us take a look at some fantastic ideas for kitchen blinds. For more kitchen blind ideas, simply get in touch with Solaire Blinds today for your free home visit.
Roller Blinds
Functional roller blinds are an excellent way to make the most of the daylight, even in the winter months. When not in use, they simply roll into a tube, giving you an unrestricted view of the garden whilst you cook.
Vertical Blinds
If you have floor to ceiling windows or a patio door in your kitchen, then consider kitchen vertical blinds. These blinds are made to measure to perfectly cover every inch of your kitchen windows, no matter the size.
Conservatory Blinds
At Solaire Blinds, we boast a wide range of conservatory blinds, covering a variety of blind styles and a comprehensive range of colours. We know that conservatory window blinds are more than just about keeping light out – they need to be able to provide ample privacy and relief from the summer sunshine.
Due to the wide expanse of glass in a conservatory, conservatory blinds are more prone to gathering dust, dirt, and insects than other blinds around your home. We recommend opting for an easy-to-maintain conservatory blind, allowing you to quickly clean them once a week to keep them in pristine condition.
We are sure to have the perfect solution for your conservatory needs. You can see more about our favourite conservatory blinds below.
Perfect Fit Blinds
Perfect fit blinds are just how it sounds – we make them to measure for optimum light control. Operated by a tensioned bar and wand, perfect fit blinds are perfect folding door and conservatory blinds, as they promote ventilation in the room, keeping stuffy conservatories cooler in summer.
Roller Blinds
When choosing a blind for your conservatory, you don't want it to restrict the views through your towering glass conservatory windows. Roller blinds are stored in a roll when not in use, which makes them the least obstructive choice for sleek, minimalist designs. Roller blinds are also an ideal solution for your conservatory roof, as they can operate and be secured at any angle.
Vertical Blinds
Vertical blinds will span from floor to ceiling, made bespoke to ensure the perfect fit. These blinds are extremely durable and easy to maintain, and you can rest assured that the wand or chain will always be child safe.
Venetian Blinds
Venetian conservatory blinds provide maximum light control, with wooden or metal slats that can be tilted to keep light and heat out during the summer months, as well as keep the conservatory cosy and warm during the winter. They are also a fantastic design statement, bringing a slice of Venice to your suburban conservatory.
To arrange your free, no-obligation home visit, where our blinds experts will measure your conservatory and discuss your design options, just get in touch with Solaire Blinds today.
Why Choose Solaire Blinds?
At Solaire Blinds, we produce high-quality blinds to meet all your requirements, all without breaking the bank. We will work with you through every step of the process to design and manufacture bespoke blinds for your domestic or commercial premises.
We are passionate about making high-quality blinds, tailoring them to suit your every need and accommodate all your requirements. Our unique styles and designs are exclusive to Solaire Blinds alone, so you can rest assured that your blinds will be truly one of a kind.
Whether you need office blinds, bedroom blinds, bathroom blinds, kitchen blinds, living room blinds, conservatory blinds, or day and night blockout blinds, our blinds experts have over three decades of experience, allowing them to properly recommend the best blinds for the job.
We can provide solutions for any type of window – no matter how large or small – with designs including vertical, roller, Venetian, Roman, wooden, panel blinds, and plantation shutters. All of these blinds will be made to measure, ensuring the perfect fit and optimum light control for your home.
Contact Solaire Blinds today
For domestic and commercial bespoke blind solutions across Leeds, Wakefield, Dewsbury, Huddersfield, Halifax, Bradford, and the surrounding areas, look no further than Solaire Blinds. To see more of our blind collection, visit our showroom in Wakefield, view our online gallery, or book in your home consultation online or by giving us a call.