Arrange a free home visit
LIVING ROOM BLINDS IN LEEDS & WAKEFIELD
Here at Solaire Blinds, we think that your living room, or your lounge, is one of the most important rooms in the house. As a social space, it's a place for families to unwind together at the end of the day and for friends to meet and catch up. As such, it should be a welcoming space and so the design of your living room is extremely important. When considering the design for your space, blinds are an essential finishing touch that plays a vital role in the room's decorative scheme. To help you, we've provided the best types of blinds for your living room, so you can choose a style that truly compliments your decor and provides a stunning, sleek finish.
We've been providing high-quality blinds, in a range of fabrics and materials, for years across Leeds and surrounding areas, such as Wakefield and further afield. If you'd like to speak to one of our blind experts about our range of blinds and our services, our friendly team are always happy to provide advice and further details about our products. To talk to a member of staff, you can get in touch online or by calling 0345 222 0138. If you prefer to see us in person, you could visit our blinds showroom in Wakefield.
The Best Blinds For Your Living Room
We offer a wide range of blinds in different styles to complement your living room and provide the perfect finishing touch. Amongst our options, we have motorised, Day & Night blinds, pleated and roller blinds. Most of our range can be made to measure for living rooms, but here are our recommendations for the best styles of blind for your living room.
Vertical blinds are a popular choice for living room window blinds, as they are ideal for controlling the amount of natural light that enters the room by adjusting the vertical slats. They are also a great choice for bay windows. At Solaire Blinds, you can shop a wide range of finishes and colours – from classic shades to unique patterns – so that you can choose from stunning shades that match your living room decor. You can even select up to three colours or designs to create a bold look or a dramatic finish. This style is also available as blackout blinds, which are perfect at night and for maximum privacy in your lounge. Our range also includes an anti-glare blind style which is ideal for summer.
Our vertical blinds are also a top choice for our customers that are looking for a family-friendly style of blind. After all, your living space is often at the heart of family life, and so selecting a blind that is safe for children to use is important. Our vertical blinds come with 'mono control' for child safety, at no additional cost. If you select the mono control option, your blinds will have a wand to rotate the individual vanes. This solution ensures that you don't have to worry about children getting tangled in corded blinds.
Roman blinds are another popular blind type for living rooms – these beautiful blinds are sure to add some sophistication and elegance to your space. This style of blind takes the best parts of a curtain and the most attractive features of a blind. They can provide the cosy atmosphere that curtains offer, whilst offering the practicality of a blind. Roman blinds are extremely popular in interior design as they are so versatile. This means that they also work well in bedrooms, dining rooms and other spaces within the home. Roman blinds will always be on-trend and are a timeless choice of blind.
As well as the versatility of roman blinds, one of their most appealing properties is the benefits that they offer. Our roman blinds have a thermal lining to aid insulation and warmth, as well as a blackout lining that provides effective light control, making these blinds perfect for your lounge. We're confident that with our extensive range, you'll find the perfect roman blind to complement whatever style of decor your living room has. You can select from a wide choice of quality fabrics in subtle colours and soothing shades to bold patterns that will make a statement in your window space.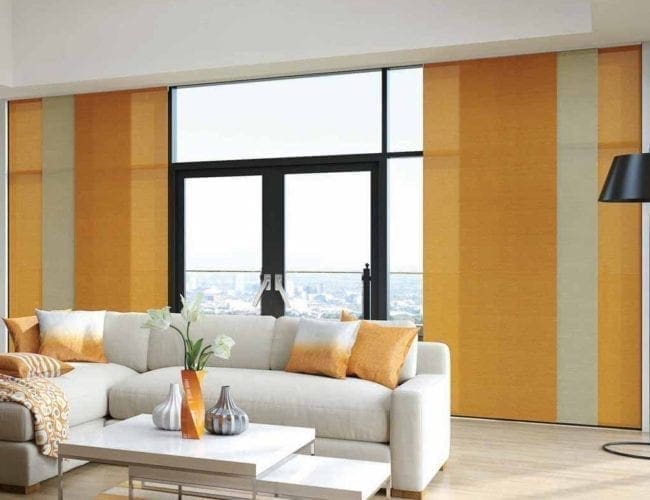 PANEL BLINDS
Panel blinds are perfect for contemporary spaces and offer some serious style. These blinds are somewhere in between curtains and blinds and they make the perfect modern window dressing, especially if you prefer a minimalist design. Here at Solaire Blinds, we offer plenty of choice when it comes to selecting a beautiful fabric and colours to match your living room scheme. Our fabric ranges from sheer fabric to big and bold patterned designs for a splash of colour – our panel blinds offer something for every taste.
Panel blinds are ideal for larger windows, such as floor to ceiling windows and larger living rooms, as they work well as an effective room divider too. They are also a great option for patio windows that need dressing. These blinds also offer easy light control and easy maintenance, as do not collect dust easily. Whatever purpose your panel blinds will serve, our design team will work with you to discuss your window dressing ideas and how many panels are needed for the space.
Get In Touch To Add A Luxurious Finish To Your Living Room
The living room is a valuable space in your house, and so you want it to be perfect. As well as our recommended living room blinds, we also offer several other types of blinds such as shutters, Venetians, wooden blinds, and perfect fit blinds, which may also be ideal for your space. If you're interested in our vast range of blinds and would like to discuss our products and services with a member of the team, please contact us online or by calling 0345222 0138.
Ready For Your Free Design Visit?
To find out more about our vertical blinds or any of our other products or services, contact Solaire Blinds today on 0345 222 0138 today.