Arrange a free home visit
CONSERVATORY BLINDS IN LEEDS & WAKEFIELD
There is a wide range of benefits to a conservatory. Not only is it an extra room in your home but it's also a place where you can host parties with loved ones and relax and soak up the sun on the rare days in Leeds and Wakefield when the sun shines. While they are fantastic, the sheer amount of glass that's used on the sides and the roof can make you feel a little bit exposed. Sure, you want to enjoy this year-round room, but a bit of privacy now and again would be nice.
This reason, as well as many others, is why you should consider our range of blinds for conservatories. At Solaire Blinds, we're able to fit blinds in almost every room in the house such as the kitchen, living room, bedroom, and bathroom. Now, we're delighted to be able to offer our comprehensive product range for your beautiful all-year-round living space. As we'll explain on this page, we have a truly vast range of styles at affordable prices.
We'll also be looking at how best to clean them, once our team has installed these for you. For years, we've been advising, supplying, and installing blind types in different sizes, shades, and looks for people across Leeds, Wakefield, and the nearby areas of Dewsbury, Pontefract, and Morley. To find the ideal solution for you, get in touch with our team online or by calling 0345 222 0138, 01924 565 824 or emailing us at enquiries@solaire-blinds.co.uk – we can't wait to help you make a perfect choice!
Our Range Of Affordable Conservatory Window Blinds
Below are just some of the blind styles that we have on offer. We have plenty more, 10 in total, but we think the ones here are the perfect style for conservatory blinds and offer the best practical solutions such as effective light control.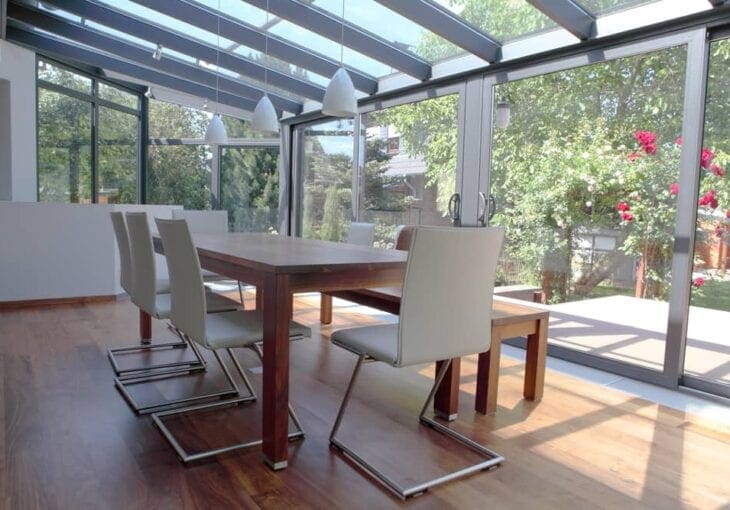 Roller Blinds
Comprising a single piece of fabric, conservatory roller blinds come in a range of colours and can be neatly stored away in a roll of the tube at the top of your windows. This means you can enjoy a full, unobstructed view of your garden when you don't want the blinds down. Roller blinds give you great control over light and their materials can keep a great deal of the summer heat out of your conservatory. These are such a popular choice because of the cost-effectiveness and ability to ensure privacy when needed.
Venetian Blinds
The Venetian conservatory blinds we sell give this room a unique look. The ability to tilt the wooden or metal slats gives you even greater light control, meaning you can choose the exact amount of light that enters your conservatory. Our conservatory Venetians come in a range of lavish colours such as ivory and piano gloss black, perfect for any colour scheme you may have.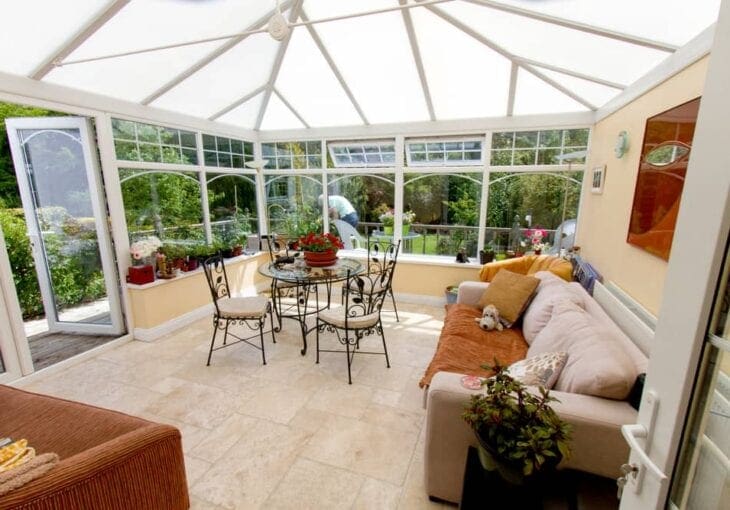 How To Clean Conservatory Blinds
Your conservatory blinds will collect a great deal of dirt, dust and even insects over the time they are in use. More than any other room in your house, conservatories attract unwanted things. It may be tempting to leave it and just do one big clean every so often. However, in our experience, a light clean once a week, for example, is one of the best ways of maintaining both the longevity of your perfect conservatory blinds and the appearance of the room itself.
The most effective way to get rid of dust and dirt from your blinds is to use the upholstery attachment on your hoover. Set it to a low suction level and gently vacuum across each individual blind. If you have pleated conservatory blinds be careful not to press too hard as you may damage them. If you haven't got a vacuum to hand, gentle brushes of a feather duster will collect up all those unwanted fibres.
If you have wooden blinds or Venetian blinds, a dry or slightly damp cloth will also do the trick and keep the wooden sheen on your blinds intact. Incorporate cleaning your beautiful conservatory blinds with your general cleaning routine. If your sofas and sideboards are free from dust, the less likely it is that those particles will be disturbed and transferred onto the blind in the first place.
Ready For Your Free Design Visit?
To find out more about our conservatory blinds or any of our other products or services, contact Solaire Blinds today on 0345 222 0138 today.