Arrange a free home visit
CELLULAR BLINDS IN LEEDS & WAKEFIELD
What are Cellular Blinds?
Cellular blinds, also sometimes referred to as 'honeycomb blinds' thanks to their distinctive appearance, are a popular type of window dressing that is made of small 'honeycomb' cells of fabric.
These small fabric cells expand and contract when the blind is raised or lowered. A smart feature, these fabric cells create a layer of insulation that sits between the temperature of the room and the window. Homeowners can opt for one air pocket (single cell) or two air pockets (double cell) – we'd recommend the second option for rooms that get particularly hot or cold.
At Solaire Blinds, we pride ourselves on providing high-quality blinds, expertly crafted and made to measure. Complete the look of your home with us – we offer a FREE home visit and full design service, making it easy for you to customise the look of your cellular blinds to make them a perfect fit for your home.
Which Rooms Suit Cellular Blinds?
One of the advantages of cellular blinds is their versatility – they work in a wide range of spaces, including:
Living Rooms
Working well as living room blinds, cellular blinds offer a simple yet stylish design and boast a wide range of colours.
Still browsing? Why not check out our stylish wooden blinds – casting a golden glow during sunny spells, perfect for living rooms modelled with a warm aesthetic.
Bedrooms
As made-to-measure bedroom blinds, cellular blinds are great for keeping the room at the right temperature – of course, important for a good night's sleep. Thanks to their smart insulated honeycomb design, they can easily adapt to keeping you warm in the winter and cool in the summer.
Still browsing? Why not check out our day and night blinds – expertly crafted for maximum light control.
Bathroom Blinds
Finding the right blinds for your bathroom can be a real challenge, but cellular blinds are a solid pick. They can help you brighten up the space while still maintaining the privacy and insulation that bathrooms require.
Still browsing? Why not check out our waterproof roller blinds – available in a range of colours and simplistic in design.
Conservatory Blinds
While conservatories are fantastic features of our homes, the sheer amount of glass that's used on the sides and the roof can make you feel a little bit exposed. Cellular blinds bring you adjustable privacy, making them well-suited as conservatory blinds.
Still browsing? Why not check out our bespoke Venetian blinds – another popular conservatory pick.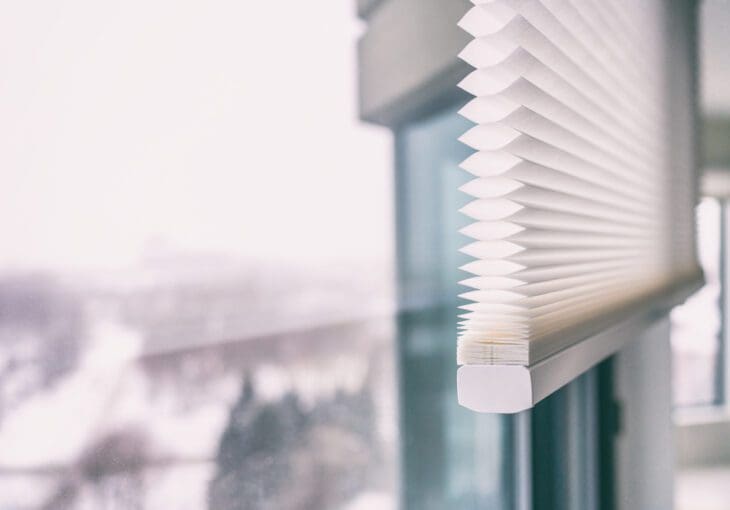 Benefits of Cellular Blinds
Cellular blinds have a number of benefits for your home, including:
They are versatile enough to be used as high-quality blinds in a range of rooms in your home
They help you to maintain an even temperature in your home all year round
They come in a range of colours
They are energy efficient, helping you to save on your energy bills 
They allow you to enjoy privacy
They reduce glare, making it easier for you to use screens – great if you typically work or study from home
Guidance from the British Blind & Shutter Association
Here at Solaire Blinds, we're proud members of the British Blind and Shutter Association (BBSA). They're a trade association for companies that manufacture, supply and install blinds and shutters, meaning we're fully up to date with all the latest regulations, best practice and training when it comes to supplying and fitting your blinds or shutters.
You can find more information about Cellular Blinds and their standard characteristics in this handy guide from the BBSA. If you have any questions about any of our blinds or shutters, please get in touch with our experts who'd be more than happy to help.
Bespoke Cellular Blinds in Leeds & Wakefield
If you are looking for high-quality, bespoke blinds, Solaire Blinds should be your top choice.
Start your journey with a FREE home consultation to discuss your needs, and let our experienced team work with you to create blinds that are the perfect fit for your home, lifestyle and needs – we have all the experience you need to make a confident, informed choice.
Call us on 0345 222 0138 or request a quote for the perfect blinds to complete the look of your home. If you'd prefer to see some of our blinds in the flesh, pop down to our Wakefield showroom.