Visit a Solaire Blinds Showroom in Leeds or Wakefield
What are you looking to achieve with the window blinds at your home or office? Perhaps you want to control light flow, strengthen privacy or guard against heat loss.
Solaire Blinds manufactures quality, bespoke blinds and shutters that can deliver all of this and more, all while blending effortlessly into your space.
Want to see our full range in person? If you're in Yorkshire, we've got a blinds showroom near you! Come and pay us a visit to see our range of blinds.
On a visit to either of our blinds showrooms in Leeds and Wakefield, our friendly team can show you the extensive range of blinds and plantation shutters we offer for installation in residential and commercial buildings in the North West.
Drop in at a time that works for you, or have us come to you to measure up! Simply give us a call on 0345 222 0138 and we'll arrange to come to you to measure your window frames so that you're certain of a perfect fit.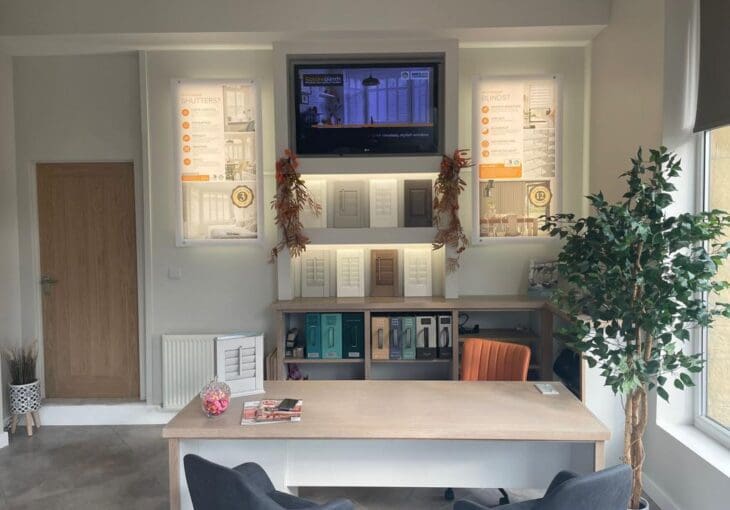 Head to Our Leeds Blinds Showroom
With the Leeds population having long surpassed 750,000 people, it made sense for us to have a presence in this vibrant West Yorkshire city.
You can find our Leeds blinds showroom in the north-east suburb of Moortown, right next to the neighbouring areas of Alwoodley, Gledhow, Roundhay and Weetwood.
We've put together instructions on how to find us on our Leeds blinds showroom page, so that you won't have any trouble getting to us. Upon your arrival, you can look forward to:
Taking advantage of free parking to the side of the shop or on the street
Enjoying a free design consultation service
Seeing samples of colours and materials available for any of our blinds
Receiving a no-obligation quote for any blinds you're interested in
Arranging for them to be installed!
We hope you'll pay our Leeds showroom a visit. If you're looking for a blinds shop near you and you're closer to Wakefield, why not pop into our Wakefield showroom instead?
Visit Our Blinds Showroom in Wakefield
Solaire's Wakefield blinds showroom is located on Wakefield Road in Dewsbury. Our Wakefield blinds showroom page includes easy-to-follow driving directions to get you right to the shop.
Friendly and knowledgeable service awaits at our Wakefield site, where you will be able to:
Chat with showroom staff about any of the various styles of blinds we offer
Take advantage of a free design consultation
Give us the details we need to produce made-to-measure blinds for you
Obtain a great-value quote
Book a blinds fitting service
Being well-connected by road, our Wakefield blinds showroom is simple for people anywhere in or around Wakefield, or wider West Yorkshire, to visit.
You won't even need to worry about finding a parking space, as we have plenty of free on-street parking spots close to our blinds shop.
Why Pay Our Blinds Showrooms a Visit?
We take a great deal of pride in the beautiful blinds we have available. We have no doubt that you'll appreciate their appeal when you see them on display in a Solaire Blinds showroom. The styles we make include:
Ask the staff at a Solaire Blinds shop anything you like about our blinds and we'll do our best to answer any questions you have. After all, we've been in the blinds business for decades! Our staff know blinds inside out and can't wait to welcome you to the showroom to help you discover your dream set over a cup of tea.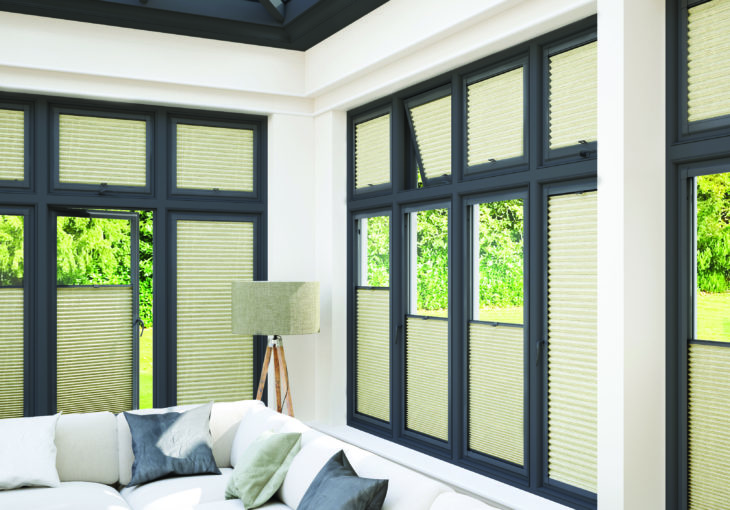 We Manufacture In-House So That Our Bespoke Blinds Fit Any Windows
However large or small your windows are, we can provide blinds or plantation shutters to suit. We have the in-house manufacturing facilities to produce bespoke blinds to your exact requirements.
We can fit any style of blinds wherever you have a window that needs covering, regardless of the shape or size! However, you might want to browse the popular options for common spaces in the home:
We can also fit blinds in workplaces such as offices and schools. Whether you are a domestic or commercial customer, we can make and install your perfect blinds.
Being fully in control of the manufacturing process means that we can control the pricing, as no middleman is involved. Customers can purchase custom blinds that are impressive in both quality and value from Solaire Blinds.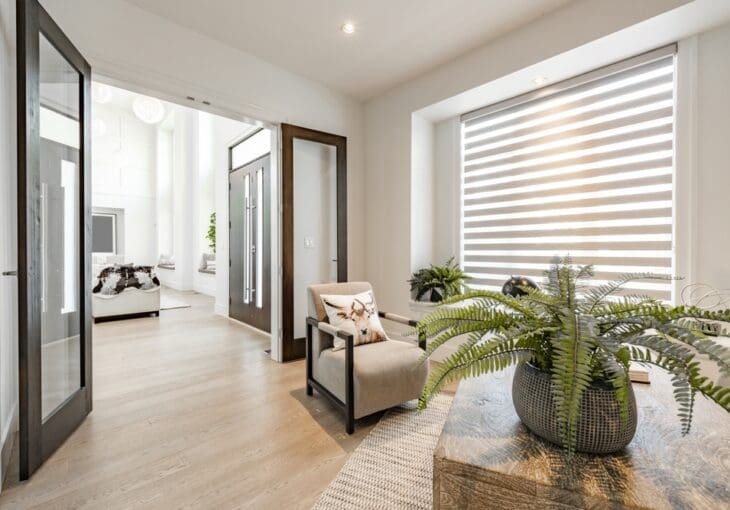 We Provide Like-for-like Quote Matching
What style would you like for your blinds? Perhaps you favour a classic look, or something much more contemporary.
Whatever the brief for your new blinds' style, you can count on a member of our team to bring your perfect window furnishings to life when you are at our Leeds or Wakefield blinds showrooms. They will be able to quickly source samples for you to choose just the right shade and fabric texture for your space.
Even when we consult with you on the design, you will never be under any obligation to buy from us. However, if we offer you a custom window solution you find you could get cheaper elsewhere, just let us know and we will be happy to match that quote.
This pledge reflects our confidence in the value of our products — and our commitment to providing bespoke blinds at competitive prices.
Take Advantage of the Free Design Service in Our Blinds Showrooms
We can hold a free design consultation with you at either Solaire Blinds showroom. Our friendly and experienced staff can give guidance on design-related subjects, such as:
How window coverings differ in their cosmetic features
How different shutters and blinds styles can suit different spaces
How blinds and shutters can vary in their colour psychology
What design touches to compromise on if you seek budget blinds
Our ability to produce made-to-measure blinds for any residential or commercial space — regardless of its size — in Leeds, Wakefield, or closeby, ensures that we will be able to achieve a perfect fit when installing your chosen window covering.
With just one visit to a Solaire Blinds shop, you can obtain a no-obligation quote for design, manufacture and installation of bespoke window coverings. When you're ready to give us the green light, we'll be happy to produce quality blinds for you that enhance your space by perfectly complementing it.
Visit Our Blinds Shop Near You Today!
It's easy to get in touch with us at Solaire Blinds. Book a free design consultation with us at one of our blinds showrooms by calling 0345 222 0138 or filling in the online contact form to book a no-obligation appointment.
We're confident that you'll be impressed by the quality of our range when you visit us in person at one of our showrooms.
We would be delighted to greet and assist you face-to-face at a Solaire blinds shop near you in either Leeds or Wakefield.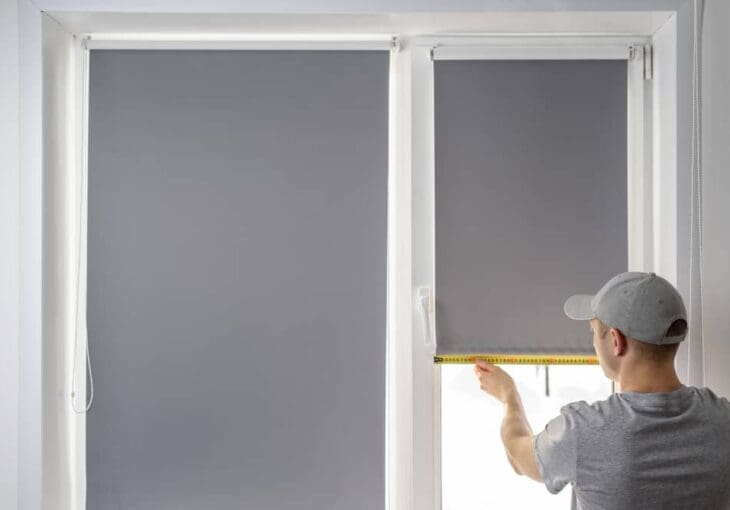 Or Arrange a Free Home Visit
You are welcome to personally measure the windows where you would like us to install your blinds or shutters. You'll be able to pass the measurements onto us during a visit at one of our showrooms.
However, if you are nervous about potentially getting those measurements wrong, why not have us make a free home visit so that we can measure up for you?
While with you, we can show you not only samples of the fabric but also how it would look 'in situ', before you make a purchase.