Arrange a free home visit
MOTORISED BLINDS IN LEEDS & WAKEFIELD
WHAT ARE MOTORISED BLINDS?
Motorised blinds are those powered by batteries, solar energy, a DC power adaptor or simply connected to the mains power. The blinds move smoothly with the click of a button from a single remote control. These remote-controlled blinds provide ease and comfort when it comes to your lighting needs, compared to normal blinds. Get your new blind system installed then relax in bed and watch the sunrise. Or use your luxury system on those hard-to-reach windows to create your own darkened cinema experience. All this affordable luxury from just a single remote control system, without having to get up!
Which Motorised Blinds Do We Offer?
We attach a full range of Louvolite motors to your desired motorised window blinds or motorised wooden blinds. Several blinds can become motorised blinds, be they Roller, Vision, Venetian or Vertical. Louvolite is also a trusted and reputable company and the masters of electric blinds and activated blinds.
We stock their One Touch collection, view the range below:
The Lithium Rechargeable 1100 or 1200 series – These electric roller blinds work best in bedrooms, kitchens and the living room.
The Magic Wand 300 and 700 series – These smart blinds work well in every room, regardless of window style.
The Mains Power 1500 and 1600 series – Great electric roller blinds, perfect for large windows and commercial properties.
We also offer some technology titans, using innovative systems to provide solutions for all kinds of windows. These include:
The Tilt 50 WireFree RTS – Using battery power, these motorised Venetian blinds are great for hard-to-reach windows.
The Sonesse ULTRA 50 AC – Works perfectly in every room, regardless of which separate windows you have in your home.
Roll Up Wired R28 WT – Uses low voltage wiring and works best in the bedroom and lounge.
What Are The Benefits Of Motorised Blinds?
Convenience – A motorised blind, or indeed multiple blinds, are packed with convenience. Once installed, our full range of motorised blinds means you'll never have to leave your sofa to close your blinds again. At a touch of a remote control, your motorised blinds will lower and before you know it you'll be in full control of the light entering your room.
Adds elegant design and flow to your room – Choose a fabric that suits your room best from sheer and dimout to total blackout fabrics. Whatever fabric you choose your new electric blinds will add a new, modern element to your home without anyone even knowing. Our motorised blinds have minimal visibility thanks to a new motorised control system and discretely integrated motors.
Ease of installation – At Solaire Blinds, we take great pride in making the installation process for your motorised blinds as easy as possible. Once you order motorised blinds from Solaire Blinds, we'll have an expert team that install your motorised window coverings as if they were their own, meaning you can relax, knowing that your installation will be carried out to a high standard.
Ease of operation – Motorised roller blinds are installed using progressive motorisation technology and can be operated a few ways. You can have individual remotes that use battery power or a motorised version that uses a unique wand which hangs next to the blind and uses wire-free technology.
Child safety is ensured with no hanging operating cords or chains – Thanks to the aforementioned wire-free technology you can order motorised blinds, safe in the knowledge that your children are safe around them and okay to operate them.
Choose from a huge range of fabrics – When you purchase your new motorised roller blinds you'll have the option to choose from a full range of different blind fabrics. Choose full blackout fabrics, translucent blinds, coloured blinds and many more. Whatever blinds you choose, they are sure to bring your room up to its full potential and they'll be fitted with a handy motorised control system complete with super slim profile motors.
Why Motorised Blinds Are A Fantastic Choice For Your Home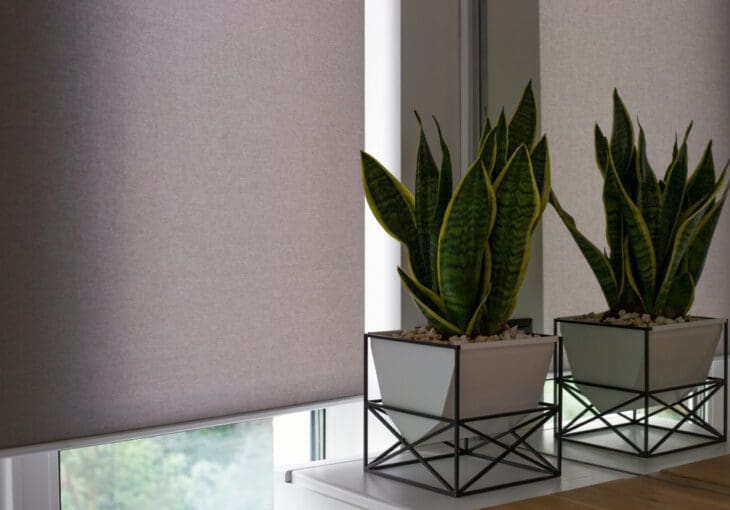 If you want a modern, fresh and innovative blind solution for your home or office's windows, then motorised blinds are a luxury, affordable and convenient choice. While feeling like a huge step up from manual blinds, when it comes to window furnishings motorised blinds are easy to set up and use, quick to install and don't actually require the efforts of a professional electrician at all! On top of this, they make for a fantastic choice for home's with families, as they are a very child safe option – there aren't any cords involved at all! 
If you want a solution for your windows that means that you will never need to get out of your chair or bed in order to adjust the blinds, then motorised blinds are the choice for you! With remote operation, you can easily adjust the amount of light and heat coming into your home with one quick and easy push of a button. Not to mention the fact that this gives you even greater privacy control in your home! 
Motorised blinds are an option for many different items on our product range, including the Roller and Vision blinds we manufacture in house. If you want blinds and you would like to enhance them with motorisation, then you have come to the perfect place here at Solaire Blinds.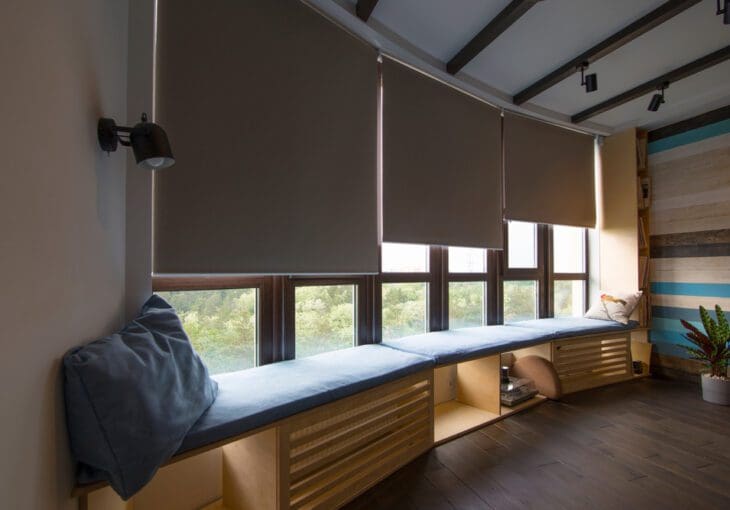 Our motorised blinds are powered by Louvolite motors and systems. We stock the Louvolite One Touch System, a battery powered range of motorised blinds boasting remote control and a new and exceptionally easy way of opening and closing your blinds. We also offer a range of other motorised blinds that come with a range of different options – so whether you want something battery powered, remote controlled, or one that uses low voltage, we can accommodate you today! 
The best part? Our motorised blinds are a lot more affordable than you think. Many people simply assume that the added technology will hike up the price of their blinds too much, but you are likely to be surprised by just how cost effective our motorised blinds solutions are. In fact, simply get in touch with us today to discuss how we can supply you with affordable motorised blinds in Wakefield, Leeds and beyond!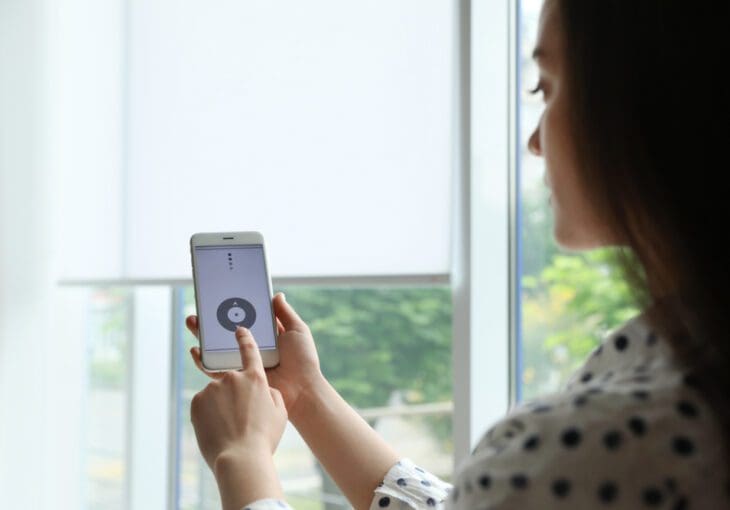 Using Motorised Blinds In Your Smart Home
Motorised blinds have been a fantastic addition to the host of smart devices available for homes. Smart home devices are one of the major breakthroughs for home interiors in recent years.
But, what is a smart home?
A smart home is one that's been maximised for convenience. To make your home a smart home, you can install various smart home devices that can be controlled remotely, and no smart home is complete without a pair of motorised blinds.
While your smart home may have automated lights that can operate via the tap of a button, motorised blinds allow you to take control of natural light via remote control.
Out of our wide range of bespoke blinds, motorised blinds are the best choice if you're wanting to regulate how much light enters your room without having to get up. For the tech-savvy customer eager to maximise their home's interior design, these smart blinds are the real deal.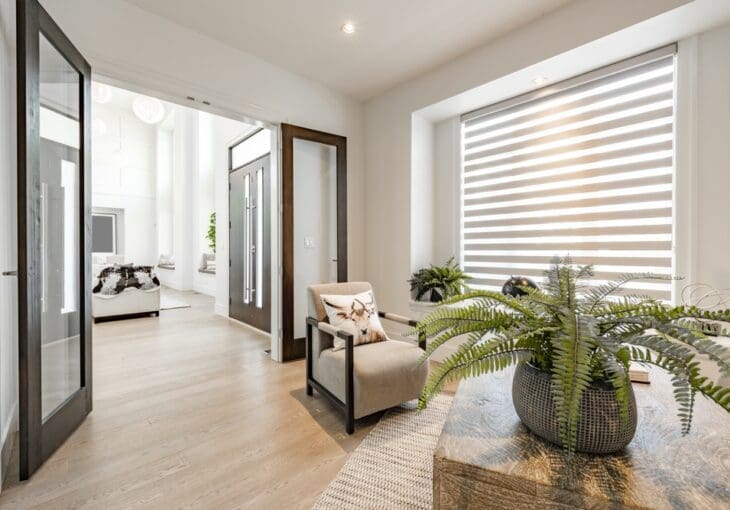 How Motorised Blinds Can Upgrade Your Smart Home
You will be able to better control the light, mood and privacy of your space by using motorised blinds, which can connect to the technology of your smartphone and be remotely controlled. Even when you aren't home, electric blinds can be controlled remotely to handle the privacy of your home – and how much people can see into it.
Get the most out of your home by purchasing a pair of motorised vertical blinds and linking them up with a smart home connectivity device.
There is a wide range of motorisation options to choose from: Bluetooth, smart hubs, and other technologies are at your disposal to completely customise how your house appears and feels from anywhere.
Let as little or as much light into your home as you wish using a smart device.
Enhance Your Smart Home with Our Motorised Blinds Selection
With our electric motorised blinds, you can upgrade your windows and incorporate them into your smart home. By using the easy-to-use remote control, you can control our battery-powered, wire-free or solar-powered blinds and can raise and lower them with the touch of a button.
Not everything in your smart home needs to be smart, but the windows make up a huge part of any house and knowing that you don't have to get up and fiddle with the blind wand can add peace of mind – especially if accessibility is an issue.
Remote Control Lighting Made Easy
There is no easier way to control your blinds and consequently regulate the amount of natural light that enters your home than with a pair of remote-controlled, motorised blinds. With just the click of a button, your blinds can move seamlessly from one position to another.
Thanks to our brilliant customer service and irresistible prices, everything is made easy when you buy blinds or window solutions from us at Solaire Blinds.
Installing motorised and electric roller blinds may seem like a complex project – but we can provide blind installation services at a fantastic price to ensure your blinds are fitted perfectly.
Our installation service will be delivered with amazing customer service, ensuring we meet your exact project requirements. For more information regarding our installation services, make sure you get in touch or request a like-for-like quote today.
As well as this, we can supply your motorised blinds with accurate measurements using a detailed measurement template. Custom electric blinds are the perfect choice for making remote control lighting both easy and attractive.
Our efficient bespoke blinds supply and installation service ensures that the spaces within your home look aesthetically pleasing and assure that you have full remote control operation of your blinds.
Above all, motorised and remote control blinds make it far easier for you to control your home's blinds, which means you have more freedom and control over your home and its atmosphere throughout the day.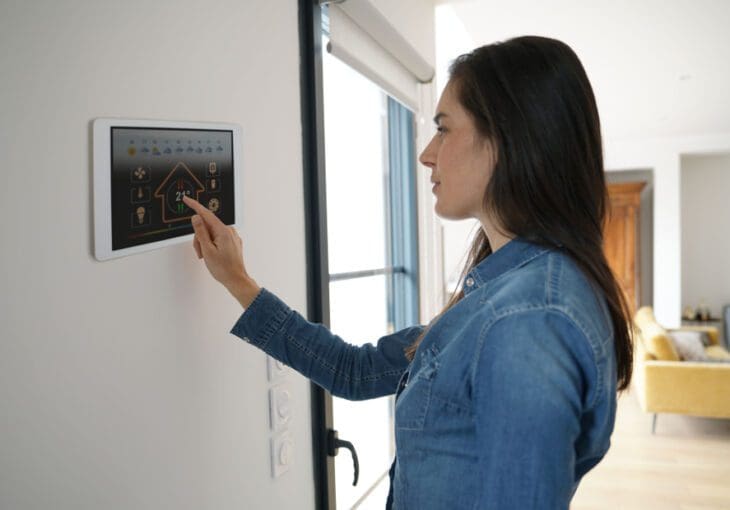 Custom Motorised Blinds Service
We affix a wide variety of Louvolite motors to window blinds of your choice. Other blinds that can be converted with a motorised component include:
Across the Solaire range, we have exclusive designs and a design consultation service that allows you to customise your blinds. Of course, these can also be motorised by our team. Whether you want the latest trends or luxury-style blinds, we can attach Louvolite motors to the blinds that you fancy most.
Roller blinds such as cassette roller blinds and double roller blinds work – and look – really well when they have been transformed into motorised blinds. To find out more about our selection of home and commercial blinds for offices, just explore our full range of high-quality blinds by type or get in touch with us and one of our team members will be happy to help you out.
Where Do Motorised Blinds Work Well? 
People often come to us here at Solaire Blinds when they are curious and would like to view motorised blinds in Leeds and Wakefield. But a lot of people aren't sure where exactly they would work best in their home. Well, the answer to this is simple: motorised blinds work well just about everywhere! 
From larger kitchens to small offices and bedrooms, the modern and sleek style of motorised blinds works well in a variety of home interiors – and can be customised to match your unique style! The operation of these motorised blinds is incredibly smooth and seamless and, when open, the fabric is nicely and compactly stored in order to give you complete ease of use!
Ready For Your Free Design Visit?
If you're a homeowner or business owner that has commercial or industrial property and you're looking to order motorised blinds from a company that expertly fits blinds to the highest standard in a quick, fuss-free manner then get in touch today with our expert team at Solaire Blinds to find out more about your new remote-controlled blinds.
If you live in Leeds, Wakefield, Dewsbury, or anywhere else in West Yorkshire, we can organise a home design visit to discuss and order your new motorised blinds at a time that suits you and your family. Feel free to call 0345 222 0138 or use our contact form, or head to our blinds showroom in Wakefield – we can't wait to hear how we can help you.