Summer is here, which means beautiful sunshine, hot weather and the chance to enjoy the fresh air more than at any other time of year! But, of course, most of us are spending our summer indoors this year. Due to the events of COVID-19, we're spending a lot more time in our own homes this summer season, which means that we want to make the most of things – as best as we can, at least. 
But making the most of the summer weather doesn't exactly conjure images of us sitting at home inside all day, does it? And not all of us can ignore our energy savings by installing air conditioning. Fortunately, there is actually a lot you can do to help enjoy the summer weather from the comfort and safety of your home over the next few months. The biggest challenge is trying to stay cool while enjoying the fresh air. 
The biggest exposure to sunlight inside your home is through your windows – how your windows make use of light and air is central to how you control the heat in your home during summer. For the best results, you need something flexible and that allows the air in when you need it – and keeps the heat out when you need it. 
Our answer? Summer blinds. Compared to curtains and fabrics, blinds are amazing during summer because they are so flexible. You can quickly and easily control the level of light, air and heat entering your home, allowing you to make the most of the summer weather. 
Every home is different, of course. This means that the solution that works best for you might not work best for everyone. If possible, chat to an expert about your home. Here at Solaire Blinds, we live and breathe blinds and everything they can do for your home – and we're always free for a chat about finding the best solution for you! 
1. Venetian Blinds
First on our list of great blinds for summer is the classic Venetian blinds! These are such a great choice for controlling the light and heat coming into your home. Because the slats can be tiled, you can angle them to block hot sunlight – all without stopping natural, beautiful summer light coming into your home! 
A lot of people actually recommend keeping the windows closed during summer to prevent warm air from making your home stuffy and sweaty. But with Venetian blinds, you can easily keep your open windows free to let in that gorgeous fresh and cooler air – all while keeping the blinds down and blocking heat. They are unobstructive and flexible, making Venetian blinds a good choice for summer. 
There are also a lot of different options when it comes to Venetian blinds. Here at Solaire Blinds, for example, we sell and provide wooden blinds, faux wooden blinds and aluminium Venetian blinds. For the summer months, we particularly recommend aluminium blinds. The metallic surface of aluminium Venetian blinds reflects the heat very well, making them excellent summer window coverings. But the other thing to take into account is that wood can warp in very high temperatures and excessive heat. 
2. Pleated Blinds
Second on our list of great blinds for enjoying the summer weather at home are the very popular pleated blinds! These are a great choice for keeping typically warmer rooms a lot cooler. Rooms that see a lot of sunlight such as south facing living rooms and conservatories are great places to install pleated blinds, whether it be as window coverings or for glass doors. 
Speaking to your supplier to get perfect fit pleated fabric blinds is usually the best choice, especially for difficult spots such as skylights and glass doors. It's one of our most popular products here at Solaire Blinds, and we've supplied our customers will perfect fit pleated blinds for a number of different uses! Pleated blinds provide good insulation for south facing windows and doors, and allow owners to much more easily control the light and heat entering the home. 
There's also a good selection of luxury fabrics available when choosing your pleated blinds. For example, here at Solaire Blinds we offer Solar Protective Coating (SPC) fabrics and Energy Performance Coating (EPC) in order to even better filter light, reduce heat build up, and lessen glare in your home. 
3. Motorised Blinds
Want a modern and innovative way of reducing the summer heat in your home? Consider motorised blinds, which can come in a number of styles (including the aforementioned Venetian and pleated blinds). It's the motorisation and ease of control that makes electric blinds a particularly alluring option when it comes to controlling the heat and light in your home over summer. 
Here at Solaire Blinds, we love motorised blinds as a unique and inherently modern option. We work with top manufacturers like Louvolite and Somfy to provide our customers with the best motors on the market. There are many different options available too, including blinds with a timer function and remote control systems. 
Choosing motorised blinds with a timer function allows you to easily and automatically set your blinds to shut throughout the hotter and sunnier parts of the day. This will reduce that awful and stuffy greenhouse effect that can last from noon well into the evening! Alternatively, the more popular remote controlled motorised blinds can be closed and opened at the simple touch of a button, allowing minimal interference with your daily routine. 
There are a great many benefits to using motorised blinds, including the element of improved child safety, the ease of installation and use, the elegance and flow it brings to a room, and the wide variety of gorgeous and luxury fabrics you can use to make your motorised blinds the best window coverings you could hope for!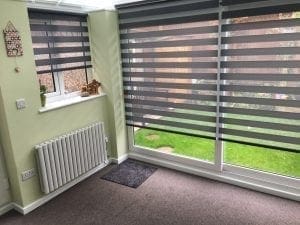 Get In Touch
Want to find out more about how we can help you to improve the flow of heat and light into your home this summer? Get in touch with us today for a chat – we're always available to discuss the best window solutions for your home. And with so many luxury and high quality blinds available, we're sure that we have what you need! We've been supplying customers throughout Leeds and Wakefield for years, and there's nowhere better in the area to look for high quality window coverings.