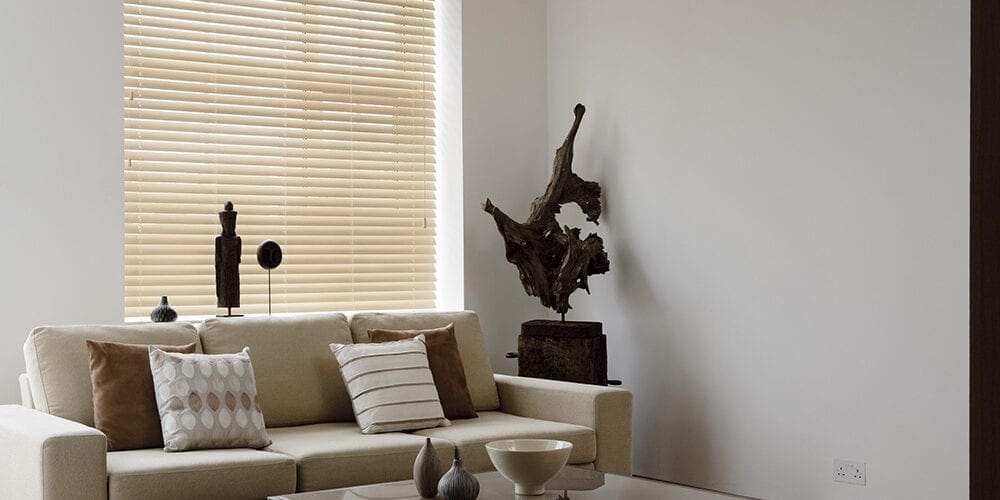 Whether your home is a traditional period property, a sleek-designed new build or something in-between, you may be pleasantly surprised by how much better many of its interior spaces look once Venetian blinds have been specially fitted to the windows.
Venetian blinds – including those we supply – come in a wide range of colours, patterns and textures. However, this isn't the only reason why any residential room could aesthetically benefit from the addition of Venetian blinds, as this article elaborates…
Venetian blinds permit a large degree of light control
Blinds of this type comprise horizontal slats that are placed on top of one another and kept together by a vertical ladder tape or cord that allows for these slats to be rotated.
In subtly rotating them, you could let just a few flickers of light shine into your bedroom, kitchen or wherever else the blinds are fitted. Alternatively, you could open or close the slats to fully to bathe the space in light or plunge it into darkness. It's up to you!
Add a touch of lavish colour to your home
There's no shortage of prestige colours from which you could choose for Venetian blinds sourced from our team here at Solaire Blinds.
For example, we offer Venetian blinds from the Aquarius brand, including blinds in the stunning finishes of Chiffon, Graphite and organic wood.
Wood blinds can give your home a more traditional look
We can provide both faux-wood and real-wood Venetian blinds. Still, whichever type you order, you can enjoy how it adds an elegant flourish to a contemporary home or, if your property is actually a lot older, further enhance its traditional appearance both inside and out.
If you are especially eco-conscious, you can also rest easy that all of the genuine wood used to make the Venetian blinds we sell is ethically sourced from sustainable forests.
We offer Venetian blinds in various unique designs
This is largely due to our close partnership with another renowned blinds brand, Sunwood – from which we can provide blinds in numerous unique colours.
These colours include – by name – gravity, elm, fired walnut and desert oak, making it easier for you to obtain Venetian blinds that will look 'just right' in the room where you intend to have them installed.
We are at your beck and call
Wherever you live in Leeds or Wakefield, you can trust us to respond promptly to your request for a new set of Venetian blinds.
Don't worry if you don't yet have a good idea of what fabric, texture or colour you should choose for your Venetian blinds. Once you have got in touch with us, we can visit your home to show you various options for new blinds.