Time to give your blinds a little TLC? Good news – cleaning your blinds is a simple task, and depending on the level of cleaning needed, not an overwhelmingly time-consuming task in most cases.
Though simple, there are some factors to consider when choosing the most suited method to clean your blind type, and a few cleaning hacks can go a long way in ensuring your blinds look fresh.
In this guide, we'll take you through all the cleaning tips and tools you'll need, as well as the recommended methods to get the best results.
So, let's get cleaning…
Considerations Before You Get Started
Before we answer how to clean your blinds, first there are a few things to consider. Of the methods below, you'll need to determine:
Exactly which type of window blind you have
What sort of dirt you will be cleaning
If you wish to leave the blinds up or take them down
And then it's time to get the tools ready.
Tools You'll Need for Cleaning Your Blinds
For a basic clean:
Microfibre cloth or dry duster
Hoover with attachments
For a deep clean:
Microfibre cloth, duster, and a soft sponge
Towels
Warm water
Liquid dish soap or mild detergent
Vinegar (potentially for stains!)
How to Clean Blinds: Best Method for Each Blind Type
Cleaning blinds might not be the most thrilling task, but don't worry, it's easier than you think! Each type of blind has its own little cleaning secret that will have them looking pristine in no time.
How to Clean Venetian Blinds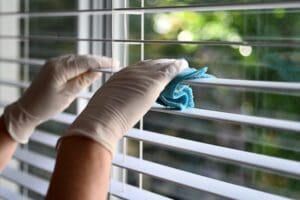 Venetian blinds can accumulate dust and dirt more easily than most kinds of blinds but, thankfully, they're also one of the easiest to clean. The best way to start is to simply run over the dust with a feather duster or dry cloth. Repeat this step for the other side of the blinds.
Every now and then, Venetian blinds can develop stains, especially if you leave your windows open. If your blinds are made of real or faux wood, it is best to use a Venetian blind cleaner to wash them, but otherwise regular lukewarm water with a splash of vinegar and a damp cloth will do the job nicely.
How to Clean Roller Blinds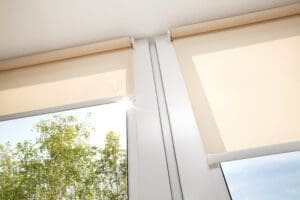 This may sound like a challenging clean, but there are truly only a few steps between you and spotless blinds.
For a light clean, we recommend running your bespoke roller blinds the entire way down and running a vacuum cleaner over it. Be sure to target loose dust and dirt. For a deeper clean that targets stains, use your trusty soapy water and damp flannel over the areas you want to target.
How to Clean Vertical Blinds
Before you try to clean your vertical blinds, it is imperative to acknowledge what material they are made from. Fabric vertical blinds are not machine washable but can easily be hand-washed.
For fabric blinds, we recommend removing them from the head rail before cleaning and giving that a good wipe down with (you guessed it) lukewarm water and a clean cloth. Gently remove the dust from the blinds with a dry cloth before washing them in warm water. Then, all you need to do is lay them out to dry before you hang them back up!
How to Clean Wooden Blinds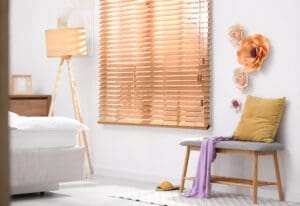 The most effective cleaning method for wooden blinds is to use a microfibre cloth to remove the dust from each wooden slat. Here, apply a gentle sweeping motion with care to avoid any damage to the blind or splinter to yourself.
For more stubborn bits of dirt, you could invest in a gentle wood cleaner. Afterwards, use a lightly damp cloth to finish off the cleaning process.
Do's and Don'ts for Cleaning Your Blinds
Do: Clean your blinds before you clean your floor, otherwise, you'll end up having to clean your floor twice once the dirt falls from the blinds.
Do: Wait for your blinds to fully dry before attempting to rehang them.
Don't: Put water on your blinds before dusting them with a dry cloth.
Don't: Use any water at all on wooden or cellular blinds.
How to Clean My Blinds: FAQs
How Often Should You Clean Your Blinds?
For a general rule of thumb, the longer you go without cleaning your blinds, the harder it will be to clean them, especially if you let dust build up. Dusting your blinds once a week will help to prevent this.
Top tip: You should always dust your blinds before hoovering.
How Do I Know When It Is Time to Replace My Blinds?
Blinds usually have a life expectancy of around 10 years, but this might vary depending on the quality. You'll notice that wear and tear might develop on them over time though.
If you spot any broken slats or frayed cords, then this should signal that it's time for a replacement – be it a new set of blinds, potentially the decor has since changed and they no longer match, or simply a replacement for the individual slat that's broken.
What's the Best Way to Remove Stains from Blinds?
Firstly, take down the blinds. To remove tough stains from blinds, you could mix water with vinegar after dusting the blinds.
Then, put a clean sock over your hand and dip your hand into the new solution you have created. After rinsing any excess liquid from the sock, wipe the stained part of the blind until any stains or stubborn marks are removed. It's important that you wait for your blinds to dry before rehanging – if you're short on time, you could use a hair dryer on a low heat to speed up the process.
Please check your manufacturer's instructions before attempting to do this in case it advises not to for your specific blind type.
How Do I Clean Mould Off My Blinds?
Before attempting to handle mould, you should wear a face covering to protect yourself from spores. Then, use a brush to remove as much flat surface mould as you can.
After this, proceed with white vinegar, lemon juice, and water mixed in a spray bottle and spray directly onto the affected area. Scrub with a microfibre towel until clean. Not all fabrics take well to to this process so it's best to double check with the manufacturer before using this method to avoid spoiling your blind.
Blinds in rooms that typically experience increased moisture in the air, such as bathroom blinds or kitchen blinds, may require this deeper level of cleaning but moisture and mould resistant fabrics are available from Solaire Blinds to prevent the build up.
Time to Replace Your Blinds? Explore Our Stunning Range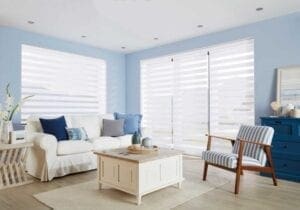 If you're seeking a solution beyond regular cleaning tips and are looking to replace your blinds, look no further than Solaire Blinds. We are proud to be the home of affordable, top-quality blinds.
No matter which type of blind you're after – be it vertical, roller, Roman, panel, you name it – we're confident that our range of made-to-measure blinds will impress.
Contact us today on 0345 222 0138 or request a free quote for your replacement blinds.