Commercial Blinds Leeds
Whether you're setting up a business, moving office, showing off a showroom or just giving your workspace a makeover, we know how important it is to make sure everything looks absolutely perfect.
At Solaire Blinds
, we stock a huge range of blinds that are stylish and functional, helping to make your office look fresh, new and fantastic, and fitting your vision for your business perfectly.
At Solaire Blinds, we are a CSCS qualified supplier of commercial blinds across Leeds, catering to companies spanning the property, construction, medical and military industries. No matter the office size or building, our expert team can supply and install your blinds to your specification. We offer a huge range of blind options, to make sure that your project fits the vision for your business perfectly. We stock various designs, colours and styles to choose from, ensuring that when we complete your project, it is absolutely perfect for you, your business and your brand.
Discover some of the commercial projects we've worked on below, and take advantage of our great commercial discounts.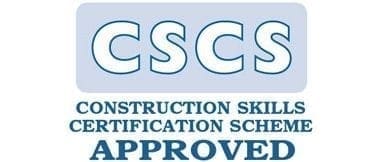 CSCS Qualified
We are CSCS qualified, meaning we have the right training and qualifications to work on construction sites. CSCS (Constructive Skills Certification Scheme) is the UK's leading scheme for certifying individuals and companies within the construction industry and gives clients and contractors peace of mind that their project will be carried out safely and to a high standard. Holding CSCS cards provides proof that the Solaire Blinds team have all the relevant qualifications they need to measure and install blinds in a commercial setting, and the majority of contractors require workers to carry a CSCS card before they're allowed to work onsite.
Having CSCS qualifications means that we have proved that we can safely work with contractors, builders and designers to help make sure your project is carried out to a high standard, with safety and quality at the forefront of the process. It also allows us to work collaboratively with builders and designers to make sure that the end result fits your vision perfectly. For example, we have worked with contractors including, Evora construction and Sigma construction to provide high quality projects with amazing results for our clients.
If you want to find out more about our CSCS accreditation, or any of our other services, don't hesitate to get in touch with us for any questions. Give us a call on
0345 222 0138.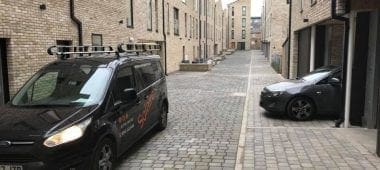 Interior Design Specialists
At Solaire Blinds, we can offer interior design solutions and advice for all of our commercial clients, to ensure that whether you're creating a new office space from scratch, moving to a new location or just giving your current office space a little extra TLC, your space reflects you and your business, and that your blind solutions are innovative and practical for whatever you need. All of our work is completed by a team of experts and specialists with a great understanding of how to create blind solutions for every space. The colours, shapes, blind types and the spaces you need your blinds to cover all play a part in the design of your office space, and we take all of this into account when it comes to the kinds of solutions we offer for your commercial space. At Solaire Blinds, we are a highly experienced team, and have been carrying out our high-quality design services for commercial clients for over 30 years. When you start your journey with us, we'll take the time to really get to know you, your business and your space, so we can offer the best recommendations for blind types, colours and other solutions for your commercial blinds. Our experienced team of designers, fitters and installers all have an in-depth understanding of how to create the most beautiful and professional surroundings using your bespoke blinds, so you can feel confident that when you work with us, you have the expertise on hand to create an office environment that is perfect for you and your organisation.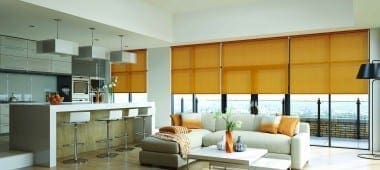 Office Blinds
Having an office space that you want to work in is so important to creating a positive working environment, and can help make your staff happier and more productive too! A well decorated and comfortable office space can make even the slowest of workdays more fun, and with the wide variety of options available at Solaire Blinds, there's no reason not to give your office decor a lift!

Our team can create bespoke plans to help make sure your office blinds are fit for purpose and look amazing in your office space. We can provide options to alter the privacy, light control and design of your office blinds to create the perfect working environment for your staff, and help make your clients feel welcome when they visit your business.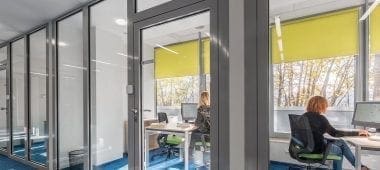 Types of Commercial Blinds
When you work with Solaire Blinds, we'll work closely with you to create a bespoke solution for your office and commercial blinds. We have a huge variety of blind types and options available to create the perfect visual and aesthetic for your office space. These are just a handful of the types of blinds that are popular for office spaces:
Vertical Blinds
Vertical blinds are
perfect for large or wide windows which are common in commercial office spaces
, as they let in a huge amount of natural light in, without compromising on privacy. Vertical blinds are also great as they can be used to reduce glare on computer screens early in the morning, so you can get straight to work with no distractions.
Roller Blinds
Roller blinds are another popular choice for commercial spaces as they are simple, adaptable and can be used for almost any type of window. Perfect for commercial spaces where you need a little more privacy, roller blinds are a single sheet of fabric that rolls down from the top of a window using a cord or motor. Roller blinds are incredibly adaptable due to their simple structure, and at Solaire Blinds,
we can make up roller blinds that fit perfectly with your company colours and office decor.
The flat surface of roller blinds also makes them perfect for branded blinds, to really show off your company and get your brand out there! We can also help to make sure that your roller blinds are giving you the best possible brand exposure, even when your blinds aren't fully closed. We can provide branded solutions for all kinds of roller blinds so that you are getting out there and being seen by potential customers every day. While perfect for giving you and your employees a little more privacy, you can also use roller blinds in your commercial or office space to really maximise the levels of natural light in the building. As you open your roller blinds, you can let the light in and give your team that little boost that comes with the sunshine!
Perfect Fit Blinds
Perfect fit blinds are incredibly stylish and come in a wide variety of colours and options,
to help give your commercial space an undeniably smart and professional look.
Perfect fit blinds are designed to slot perfectly onto the window's frame, with no need for drilling or screws which can create unsightly lumps and bumps around the frame, or add unnecessary bulk around your windows. Perfect fit blinds offer a sleek and modern look to a variety of blind styles, including roller blinds, venetian blinds, wooden blinds, pleated blinds or cellular blinds. Perfect fit blinds also move with your windows as they open and close, so don't get in the way of any ventilation and you can keep that fresh air circulating around the office. Perfect fit blinds are operated by a tensioned bottom bar for rollers, pleated and cellular as well as a wand to tilt the slats in the blinds for the perfect fit venetians. They are perfect for creating a modern and smart appearance, while also allowing you to perfectly customise the level of shade, privacy or light you let into a room.
Venetian Blinds
Venetian blinds are in incredibly popular choice for both domestic and commercial spaces due to their versatility, practicality and timeless style. Venetian blinds are made up of horizontal slats which are placed on top of one another, while vertical ladder tape or cord keeps the slats held neatly together, while also allowing space for the slats to rotate. The cord also keeps the individual slats spaced out at regular intervals, keeping them looking neat and tidy when they hand and preventing the slats from falling down or getting tangled, Venetian blinds are a classic choice for a wide variety of different rooms and windows. You can easily control the levels of light coming into your office space using venetian blinds, and they can also be raised entirely to allow the sun in on those beautiful days. If it's a bit duller outside or your office needs some privacy, you can easily lower the blinds and twist the slats to allow light in or to block peering eyes out. We can create venetian blinds in a wide variety of materials, including wood or faux wood for a natural, comfortable and cosy feel to the office, or using aluminium for a modern twist. Venetian blinds are most commonly operated using a tilt cord or wand that you twist, easily controlling the privacy and level of light of your room or office. The versatility and classic style of venetian blinds make them perfect for commercial applications.
Motorised Blinds
Motorised blinds are a brilliant, high-tech solution to really show off to your company's attention to detail and your innovative streak! Motorised blinds have a mechanism powered by batteries, solar energy, a power adaptor or the mains, to allow them to move smoothly and efficiently with just the push of a button! The smoothness and
ease of a motorised blind solution is perfect for the office as it is simple and efficient, as saves you from having unsightly cords or handles interfering with your perfectly designed space.
Why Do I Need Office Blinds?
You might think that office blinds aren't something that needs to be given too much thought, but they actually have many advantages not just limited to their aesthetics! Effective office blind solutions allow you to let in the right amount of light and reduce glare, which is especially common on sunny summer mornings. Glare on screens can reduce productivity as employees can't see their screens properly, so an effective blind solution can help to reduce this and get your team back to work. Blinds also help to distribute heat appropriately, keeping the heat in when it's cold and keeping it out when it's hot. This helps to make an effective blind solution from Solaire Blinds even more cost effective, as they help to conserve energy and reduce overhead costs. Office blinds can also really add to the decor of your office, creating a beautiful, professional environment that you and your employees actually want to spend time in! With Solaire Blinds, you can feel confident that you'll get the best possible value from your new blind solutions, while also having an office or commercial workspace that reflects the style, flair and professionalism of your business.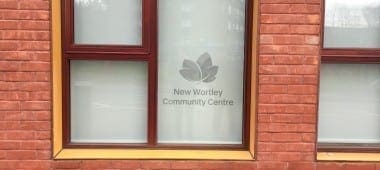 Branded blinds
Do you want to inject more of your brand into your office space? Maybe you're situated on a busy street and want to take advantage of the high traffic passing by, or you just want to shout about your brand from the window! With our high quality, high resolution and non-fade branded blinds we can help showcase who you are to the world and promote your company both inside your office space and out.

We can create branded blinds for your office space that showcase your company colours, logo and message, extending them across the office and making your company stand out both inside and outside. Our expert team are able to provide your company with custom, branded blinds complete with your company colours and logo. We recently made and fitted a set of custom blinds for Countrywide Estate Agents, incorporating their logo and signature purple, to create blinds that look amazing, are completely functional and help to promote their company and brand.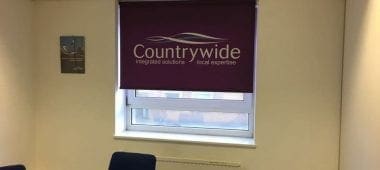 Showroom Curtains & Blinds
We regularly work with property development companies and interior designers to create a friendly, open and appealing showroom that can help your business bloom. The importance of having the right blinds in a meticulously designed showroom can't be underestimated. The wrong curtains or blinds can undo all of your designer's hard work, and make a room look drab and dull, while our carefully chosen and fitted blinds can light up the room! With our huge range and supportive team of experts, finding the perfect complimentary blinds for your showroom is easy with Solaire Blinds.

The right blind can add style, sophistication and light up all the right places when you're showing off your work. We can't promise they won't steal the show, but we can promise they'll brighten up and elevate any showroom, really showing off the best it has to offer.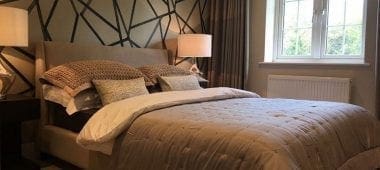 Extra Features Available For Office Blinds
We can offer a variety of extras for our wide range of blinds. As standard we offer an extensive design process for commercial clients, so you can choose from many options including styles and colours that go with your office decor and are effective for your commercial space. We also offer a variety of extra options and coatings to help give you longwearing and practical blinds in your office or workspace. We are stockists of the Pollergen system from Louvolite, which is a coating designed for vertical and roller blinds to reduce symptoms of hayfever. This is especially popular for domestic use but can also be a wonderful feature for your hay fever-stricken employees, and help them stay productive even in the spring and summer months when hayfever is often at its worst! We also offer antibacterial coatings to a selection of our blinds, to help maintain the hygiene of your office. A room where lots of different people spend 7 hours or more together every day can be the best way to catch a cold! This is why antibacterial coatings can be perfect for commercial properties and give you peace of mind that your blinds will stay clean and hygienic, no matter what's going around during flu season!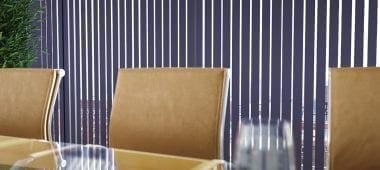 Creating Your Space From Start To Finish
At Solaire Blinds, we can help to manage your blind solutions from start to finish. We can offer interior design advice to help you create the perfect blind solutions that look amazing and work practically in your office space. We then create your bespoke blind solutions completely to your specifications, offering brilliant craftsmanship and value for money. Then, we can also install your new blinds with the help of our expert team of CSCS qualified installers. You don't have to worry about any part of the design or installation process with Solaire Blinds, as we have the knowledge and expertise to take care of everything, from start to finish. All you have to do is sit back, relax and watch as we transform your office space with a bespoke commercial blinds package.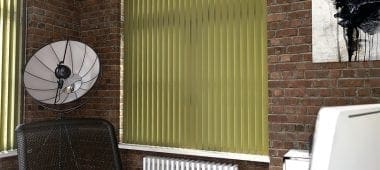 Property Development
We have worked extensively with property development companies, to create large scale projects for businesses and office buildings. Creating a space that businesses want to move into is paramount, and by working with the experienced team at Solaire Blinds, we can help to improve the design of your property development, and make it look stylish, practical and modern for our developers and other businesses in office buildings.

Our efficient, professional and friendly staff have fitted whole buildings and large commercial offices with blinds that add flow, consistency and a unique look to the businesses they've worked with. As we are CSCS certified, we are experienced at working alongside builders, designers, decorators and contractors, so your blinds can be installed by a competent team of experts as soon as the building is ready, meaning there's no delay to you.

At Solaire Blinds, no task is too small or large, and we offer exceptional trade discounts dependent on your order.

To find out more about any of our commercial blinds services, the projects we've worked on or to book your no obligation consultation with one of specialist fitters at your office, contact Solaire Blinds on 0345 222 0138.