Commercial Blinds Leeds
Whether you're setting up a business, moving office, showing off a showroom or just giving your workspace a makeover, we know how important it is to make sure everything looks absolutely perfect.
At Solaire Blinds
, we stock a huge range of blinds that are stylish and functional, helping to make your office look fresh, new and fantastic, and fitting your vision for your business perfectly.
At Solaire Blinds, we are a CSCS qualified supplier of commercial blinds across Leeds, catering to companies spanning the property, construction, medical and military industries. No matter the office size or building, our expert team can supply and install your blinds to your specification. We offer a huge range of blind options, to make sure that your project fits the vision for your business perfectly. We stock various designs, colours and styles to choose from, ensuring that when we complete your project, it is absolutely perfect for you, your business and your brand.
Discover some of the commercial projects we've worked on below, and take advantage of our great commercial discounts.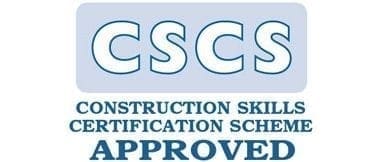 CSCS Qualified
We are CSCS qualified, meaning we have the right training and qualifications to work on construction sites. CSCS (Constructive Skills Certification Scheme) is the UK's leading scheme for certifying individuals and companies within the construction industry and gives clients and contractors peace of mind that their project will be carried out safely and to a high standard. Holding CSCS cards provides proof that the Solaire Blinds team have all the relevant qualifications they need to measure and install blinds in a commercial setting, and the majority of contractors require workers to carry a CSCS card before they're allowed to work onsite.
Having CSCS qualifications means that we have proved that we can safely work with contractors, builders and designers to help make sure your project is carried out to a high standard, with safety and quality at the forefront of the process. It also allows us to work collaboratively with builders and designers to make sure that the end result fits your vision perfectly. For example, we have worked with contractors including, Evora construction and Sigma construction to provide high quality projects with amazing results for our clients.
If you want to find out more about our CSCS accreditation, or any of our other services, don't hesitate to get in touch with us for any questions. Give us a call on
0345 222 0138.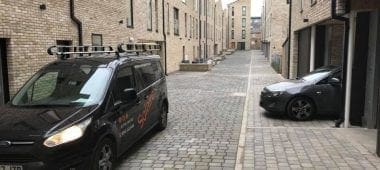 Office Blinds
Having an office space that you want to work in is so important to creating a positive working environment, and can help make your staff happier and more productive too! A well decorated and comfortable office space can make even the slowest of workdays more fun, and with the wide variety of options available at Solaire Blinds, there's no reason not to give your office decor a lift!

Our team can create bespoke plans to help make sure your office blinds are fit for purpose and look amazing in your office space. We can provide options to alter the privacy, light control and design of your office blinds to create the perfect working environment for your staff, and help make your clients feel welcome when they visit your business.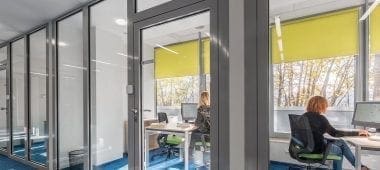 Branded blinds
Do you want to inject more of your brand into your office space? Maybe you're situated on a busy street and want to take advantage of the high traffic passing by, or you just want to shout about your brand from the window! With our high quality, high resolution and non-fade branded blinds we can help showcase who you are to the world and promote your company both inside your office space and out.

We can create branded blinds for your office space that showcase your company colours, logo and message, extending them across the office and making your company stand out both inside and outside. Our expert team are able to provide your company with custom, branded blinds complete with your company colours and logo. We recently made and fitted a set of custom blinds for Countrywide Estate Agents, incorporating their logo and signature purple, to create blinds that look amazing, are completely functional and help to promote their company and brand.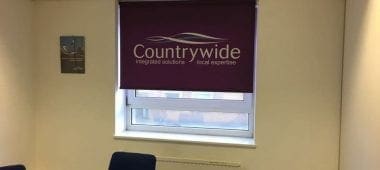 Showroom Curtains & Blinds
We regularly work with property development companies and interior designers to create a friendly, open and appealing showroom that can help your business bloom. The importance of having the right blinds in a meticulously designed showroom can't be underestimated. The wrong curtains or blinds can undo all of your designer's hard work, and make a room look drab and dull, while our carefully chosen and fitted blinds can light up the room! With our huge range and supportive team of experts, finding the perfect complimentary blinds for your showroom is easy with Solaire Blinds.

The right blind can add style, sophistication and light up all the right places when you're showing off your work. We can't promise they won't steal the show, but we can promise they'll brighten up and elevate any showroom, really showing off the best it has to offer.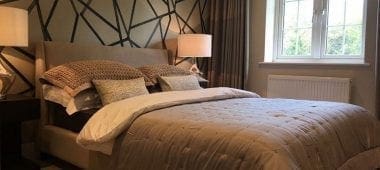 Property Development
We have worked extensively with property development companies, to create large scale projects for businesses and office buildings. Creating a space that businesses want to move into is paramount, and by working with the experienced team at Solaire Blinds, we can help to improve the design of your property development, and make it look stylish, practical and modern for our developers and other businesses in office buildings.

Our efficient, professional and friendly staff have fitted whole buildings and large commercial offices with blinds that add flow, consistency and a unique look to the businesses they've worked with. As we are CSCS certified, we are experienced at working alongside builders, designers, decorators and contractors, so your blinds can be installed by a competent team of experts as soon as the building is ready, meaning there's no delay to you.

At Solaire Blinds, no task is too small or large, and we offer exceptional trade discounts dependent on your order.

To find out more about any of our commercial blinds services, the projects we've worked on or to book your no obligation consultation with one of specialist fitters at your office, contact Solaire Blinds on 0345 222 0138.