Commercial Blinds Leeds
We are a CSCS qualified supplier of commercial blinds across Leeds, catering to companies spanning the property, construction, medical and military industries. No matter the office size or building, we'll supply and install your blinds to your specification, offering various designs, colours and styles from which to choose from. Discover the projects we've worked on below and take advantage of our great discounts.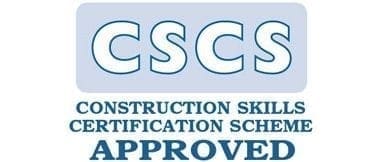 CSCS Qualified
We are CSCS qualified, meaning we have the right training and qualifications to work on construction sites. Therefore, we can safely work with contractors, builders and designers to help create the look you're going for.
For example, we have worked with contractors including Aspect construction, Evora construction and Sigma construction.
Don't hesitate to get in touch with us for any questions. Give us a call on 0345 222 0138.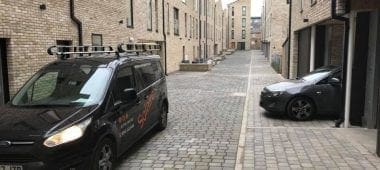 Office Blinds
We can alter the privacy, light control and design of your office blinds to create the perfect working environment for your staff, and help make your clients feel welcome.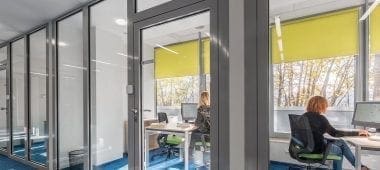 Branded blinds
Shout about your brand from the window with our high quality, high resolution and non-fade branded blinds that showcase who you are to the outside, and inside world. Your colours, logo and message will extend across the office and make your company stand strong as we
 are able to provide your company with branded blinds complete with your company colours and logo. This is an example of branded blinds that we made & fitted for Countrywide Estate Agents.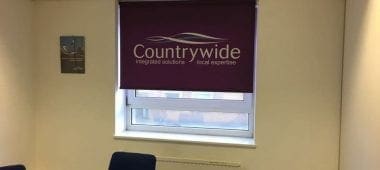 Showroom Curtains & Blinds
We regularly work with property development companies and interior designers to create friendly, open and appealing showrooms that help your business bloom. The right blind can add style, sophistication and light up all the right places. We can't promise they won't steal the show.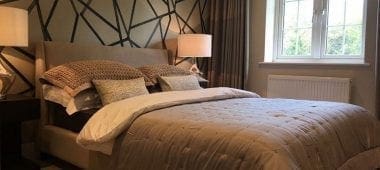 Property Development
Our efficient, professional and friendly staff have fitted whole buildings and commercial offices with blinds that add flow, consistency and a unique look to the businesses they've worked with. No task is too small or large, and we offer exceptional trade discounts dependent on your order.