Are your blinds beginning to look outdated and in need of a fresh upgrade or replacement? Well, if you're after an upgrade to your shutters and blinds in Rothwell, look no further than Solaire Blinds to provide you with the finest range of quality blinds and shutters in the Rothwell area.
We are proud to provide an extensive range of custom-fit blinds all throughout Yorkshire, while also delivering unmatched excellent customer service. We have garnered a wealth of experience in the blinds industry, having prospered in the sector for over three decades.
Finding the best blinds for your home in Rothwell
At Solaire Blinds, we have a large choice of blinds and shutters and can provide a range of solutions for any style of window in Rothwell. We provide the ideal blinds solution for customers in Rothwell: from vertical blinds, roller blinds, Venetian blinds, blackout blinds and pleated blinds to plantation-style shutters, business window coverings, and more, there is a collection of blinds for everyone!
In addition to this, we even have a huge variety of designs, colours and fabrics to choose from, giving you an almost unlimited amount of options to select from. When finding the best blinds for your home in Rothwell, you will be able to find your dream blinds with Solaire Blinds – we provide every type of blind you may desire in a whole host of colours and materials. When you select us as your blinds and shutters experts, you can be confident that you will achieve the desired look and functionality you want to attain from your windows and wooden blinds.
As well as wanting to find the best and highest quality blinds for your home, you need blinds that are built to last and affordable – value is everything. We are capable of providing top-of-the-range blinds and quality products at a reasonable and affordable price. Our rates and product costs are extremely low and competitive, and we guarantee that we will beat any similar or equivalent prices so that you are always being granted the greatest deals and prices possible.
Arrange a home visit
If you want to find the best bespoke blinds for your home, you need to see how the blinds will actually look in your home and with your current furnishings. That's why at Solaire Blinds we can arrange for one of our Leeds-based blinds specialists to visit your home and give you the freedom of allowing you to choose your new blinds design from the comfort of your own home.
We provide the ultimate customer satisfaction and buying experience to domestic and commercial customers in West Yorkshire. During the home visit, we will allow you to see exactly how the blinds will appear in conjunction with your existing home decor and furniture. This can be a real game-changer in your decision of what blinds to go for in your Rothwell home.
If you have any concerns, questions or are unsure about our range of made-to-measure blinds and the services we offer, you are more than welcome to ask us during this free home consultation – we are happy to help.
What are the best types of window shutters?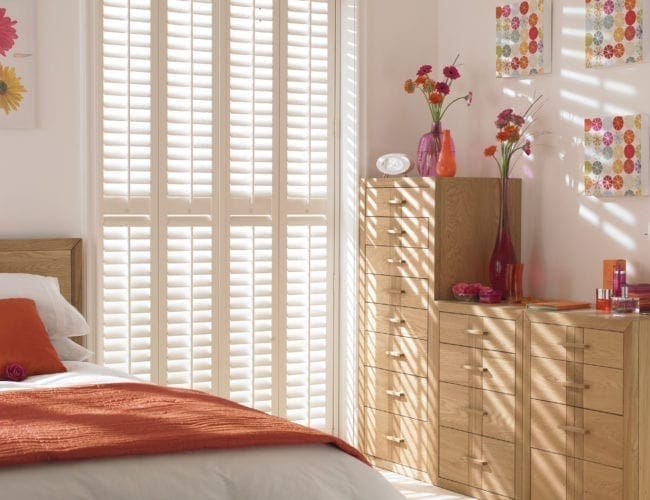 At Solaire Blinds, we provide custom window shutters known as plantation shutters, which are fitted by our City and Guilds qualified joiners. Our premium window shutters are expertly made to measure, and the wood that is used to craft them is sourced from sustainable resources, meaning they are environmentally friendly.
Plantation shutters from Solaire Blinds have adjustable slats or louvres made of high-quality MDF, hardwood, or plastic. Plantation shutters were first created to combat the humid weather of South America, from which they originated from. And despite the fact that the weather in the UK is much cooler, plantation shutters have gained huge popularity among many homeowners as they offer both a traditional and trendy look to all homes and interiors.
These wonderful wooden shutters were initially designed and installed in homes to boost security, minimise noise, and limit the amount of light entering a space, but they quickly became an on-trend interior design piece that is now favoured by many homeowners.
Plantation Shutters are often installed in a window or door frame for complete light and privacy control, and they operate using a tilt rod. Since they are tailored, your shutters will fit exactly even if your frame is curved or triangular.
We provide a remarkable and diverse Sandringham plantation shutter collection, which includes a classic style, Marchwood, Kingston, Cleveland and Vienna. We also have the best bi-fold window shutters Rothwell has to offer.