Solaire Blinds is the place to go if you want to replace and upgrade your blinds and window coverings. We are very proud to be the number one blinds business for high-quality, low-cost blinds and shutters in Ossett.
With over three decades in the blind fitting industry, we take pleasure in the extensive expertise we have gained – you can rest assured that no matter the scale of your job, you're in excellent care.
Finding the perfect window blinds for your home in Ossett
We offer a vast selection of blinds and shutters at Solaire Blinds and can provide a variety of solutions for any kind of window in Ossett. We deliver the perfect window blind solution for everyone, including:
Pleated blinds
Vertical blinds
Roller blinds
Venetian blinds
Panel blinds
Plantation-style shutters
Wooden shutters
Even better, we offer a vast selection of styles, colours, and materials to pick from, providing you with an almost endless number of window blind options. When it comes to selecting the best blinds for your house in Ossett, Solaire Blinds has you covered. We provide exclusive products and every sort of blind you could want and more in a variety of shades and materials. From natural shades to roller shades, we are the go-to blinds service for shades and styles.
When you choose us as your blinds specialists, you can be certain that you will get the greatest result for your home or office's interior, as well as the desired aesthetic and functionality from your windows and blinds.
Are window shutters a good alternative to blinds?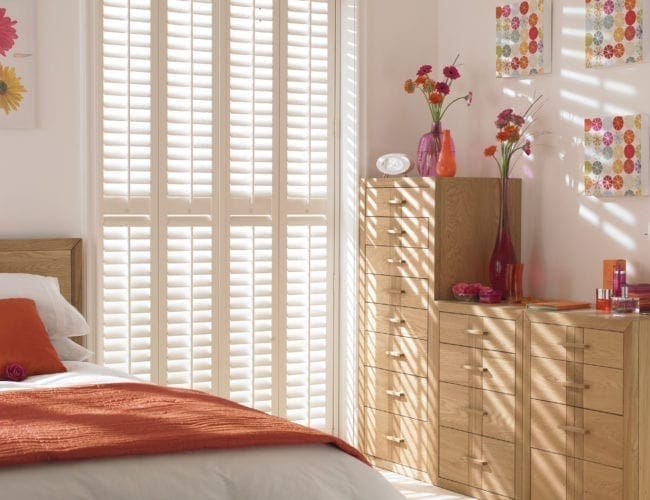 Offering all the same benefits as curtains and blinds, and more, window shutters are a great alternative to bespoke curtains and traditional window blinds. From blue curtains to Roman blinds, there are numerous window covering options to control the entrance of natural light in your home, but window shutters are arguably the best solution. Wooden and plantation shutters are very versatile, durable, secure and a great alternative to window blinds.
Shutters have been an increasingly popular interior design element for many houses and homeowners, but they offer numerous practical and functional benefits in addition to being aesthetically attractive and a statement piece for your living room. Shutters not only give security to your home, but they may also control the amount of light that enters your space while also giving privacy and allowing air in when desired.
Shutters are an excellent way to provide privacy in your home by shielding your window from the outside world. You can also use the louvres to adjust the angle of the shutters, allowing more light in while also retaining privacy.
Window shutters are also a greater alternative to blinds as they provide noise insulation. When closed, the solid panels of shutters operate as a sound barrier between the inside and exterior of your home, providing excellent insulation. Since many shutters have a barrier that is often made of timber, window shutters also offer thermal insulation, which helps to retain heat during the colder periods.