Here at Solaire Blinds, we pride ourselves on offering a range of local blinds and shutters, complete with a high-quality fitting service. From the outset you'll see that we're committed to providing the highest levels of customer service at affordable prices and with the best installation service.
As soon as you get in touch with us we'll arrange a site visit so that we can give you an exclusive quote and offer some advice on which product or products we believe would best compliment your property.
Find the perfect window blinds in Gomersall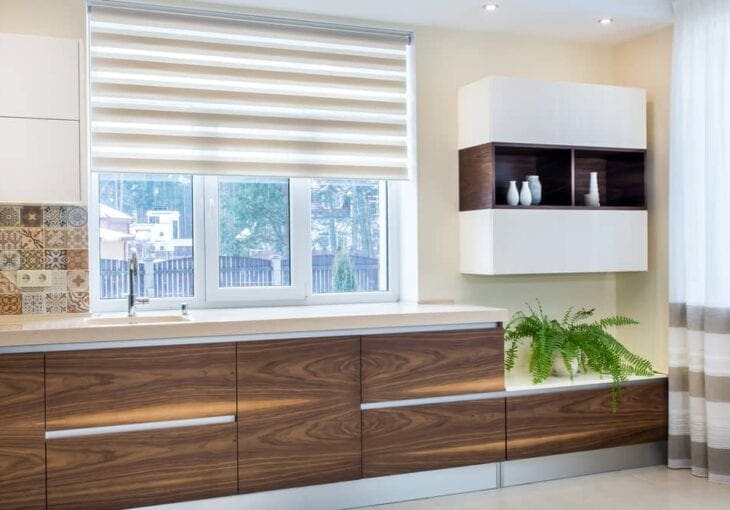 We offer an exclusive collection of window blinds in Gomersall, from vertical blinds and pleated blinds to Venetian blinds and more. Whatever finish you require you can rest assured that our team will deliver. With a wide range of quality materials and a budget-friendly collection, choosing us as your blinds specialist will guarantee a quality service.
We offer made-to-measure vertical blinds that are available in a huge range of colours and materials. You have the option of choosing up to three colours or designs for your blinds if you really want to make your stunning window blinds stand out in your window frames. For extra functionality, we have a waterproof blinds collection, which is available in the same colours and materials as our regular vertical blinds, all of which can be fitted by our professional fitting service at your home in Gomersall.
Our range of blinds at Solaire Blinds
Here at Solaire Blinds, we offer the UK's leading supplier's fabrics for pleated blinds. These blinds are made from pleated fabrics that easily rise to and rest at the top of your window when not in use. This design means that they take up less space than other types of blinds and add a modern, stylish look to the surroundings.
Available as free hanging, perfect fit, skylights for conservatory roofs and motorised options, these blinds are effective at adding protection from outside light and are just as effective at aiding temperature control.
If you're after something a little different, you might be interested in our vertical blinds. We offer made-to-measure vertical blinds, which are especially great for wide windows, as they let large amounts of natural light in without compromising on privacy. Our vertical blinds are available in a wide range of colours, finishes and materials, including laminates, metallics and almost every colour and pattern you can think of.
We provide blinds with a difference, offering a waterproof range that's sure to give your bathroom an edge; these are incredibly versatile and are available in the same prints, colours and textures as our regular vertical blinds, so will be sure to work well in the décor of your kitchen or lounge as well.
Venetian blinds are one of our more popular options, and it's not hard to see why. As a company, we love Venetian blinds because of their unique look. These blinds are made of horizontal slats placed on top of one another. Vertical ladder tape or cord keeps the slats together and allows for rotation, and the cord keeps the slats placed at regular intervals while they hang so there's no tangling.
The slats can be made of wood, aluminium or faux wood, allowing you various options to find the right style for your home. They're very easy to operate, versatile and attractive from both the outside and inside, making them a great addition to your home windows.
Window shutters for your home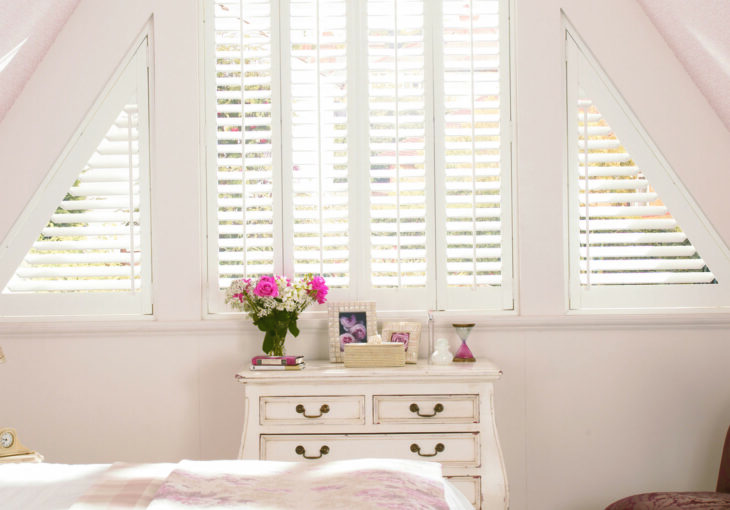 Plantation shutters originate from South America and were originally used to combat the humid weather. Nowadays, plantation shutters have grown in popularity because they offer a fashionable look to all kinds of houses. Here at Solaire Blinds, we offer plantation shutters made of hardwood, plastic or high-quality MDF.
Our classic plantation shutters are very affordable. The classic is made from MDF-coated polymer, making it strong and durable. It's available in five shades of white, together with some cream and grey colours.
The multi-purpose Marchwood is made from hardwood panels with MDF frames, being both stylish and strong. It's available in 23 shades of white, cream and grey to ensure it works well in all rooms and windows.
Our waterproof Vienna is made from ABS and is adaptable to provide a continuously dependable service. It's available in six different colours and is suitable for use in bathrooms as well as kitchens.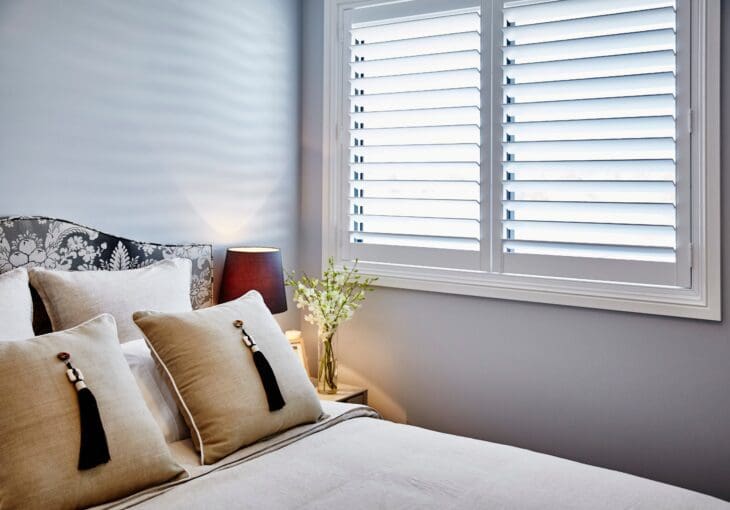 Here are just some of the reasons that plantation shutters are the best window shutters:
We custom-make your plantation shutters, carefully measuring each aspect to ensure that your chosen shutters will fit your windows perfectly.
We offer more than 50 different colours, finishes and styles.
Plantation shutters both ventilate and insulate your home, saving you money on air conditioning and heating bills.
They're easy to use, clean and maintain as well as being perfect for controlling sound, light and privacy levels.
How our experts measure your windows
We know how useful it is to be able to make use of the digital world for things you need to do, which is why our professional team is now on hand to provide you with information and advice online. Our digitised process of price estimation is as easy as can be.
By submitting photos of your window or windows and some rough measurements, our fitters can gain a clear understanding of your situation without needing to arrange a visit. From here, we will respond with price ranges for the products we supply.
Our services are much more extensive than just notifying clients of costs and product types, however. We are also available to make any suggestions you may need. As an experienced team within the industry, we understand the technicalities of windows and have a deep knowledge of how blind products can be used for different settings and requirements.
Because of this, we're able to discuss all of your options with you – suggesting the right materials, styles and mechanisms for your project. The biggest advantage of this service is that it allows our manufacturers to create custom blinds much quicker as we are able to acquire accurate measurements in a timely manner.
We estimate the cost of blinds according to size, bespoke design, installation, material and type. We offer fair and reliable price estimations based on these factors to ensure that we can offer the best prices possible. When a member of our team carries out a free consultation or when customers submit their information using the above service, we utilise these requirements to determine the cost per window and therefore the total costs associated with your new blinds.
As a company, we aim to ensure that our valued customers can have their blinds installed as soon as possible. In order to achieve this, we encourage our customers to send across their photos and measurements so that we can produce and install your blinds as quickly and efficiently as we can. We're always happy to help if you need additional information or assistance with measuring up, so be sure to contact our friendly team today if you need any advice.
If you're looking for maximum functionality blinds or shutters in Gomersall, get in touch with the Solaire Blinds team today. We're passionate about ensuring that all of your needs are accommodated for and ensuring you receive a complete service. Alternatively, arrange a free home visit with us at your earliest convenience and we'll be sure to deliver a service you won't find elsewhere.