Do you want the best blinds and shutters in Lofthouse? Say no more. Solaire Blinds is the go-to destination for a complete range of amazing made-to-measure window blinds and shutters.
Our family-run business and reputed team of skilled fitters will help you convert your house into your dream living space with our fantastic selection of quality blinds and design choices. Whether you want a bespoke set of vertical blinds with a contemporary finish or the most aesthetically pleasing plantation shutters for your kitchen, we have a window covering just for you – we can tailor our blinds and shutters to your needs!
Blinds in Lofthouse: Find the right blinds for your home in Lofthouse
Are you looking for the right blinds that boast stylish designs and the finest finishes? If you want a new set of blinds, be it for your master bedroom or your living room's French doors, you require a blinds selection and fitting service from a company that provides the most reliable blinds Lofthouse has to offer: Solaire Blinds.
Blinds are a window and lighting solution that we all need to add some aesthetic appeal and functionality to our living spaces, and there are so many different types – but which are the right kind for your home and its bedrooms?
Wooden blinds
Venetian blinds
Vertical blinds
Blackout blinds
Motorised blinds
Roman blinds
Pleated blinds
The choice is yours.
Our team at Solaire Blinds can even offer you custom conservatory blinds, which act as a beautiful design aspect. Whatever type of blinds you require, we have many design considerations and a great selection of blinds with bespoke finishes and attractive designs for every design budget.
Try venetian & bespoke wooden blinds for your bedrooms
You may opt for some Venetian blinds for your cosy bedroom or some bespoke wooden blinds for your attic bedroom. Speak with one of our friendly window experts and we will discuss our many bedroom window ideas for a range of window coverage styles.
Our customer service is unmatched; we can guarantee that we will find the right blinds for your home. With a range of attractive finishes available, the beautiful designs of our bespoke blinds will furnish your window with style.
Blackout blinds create a cosy home environment in any space
Blackout blinds are a great alternative loft conversion design feature if you're after a solution that differs from your average window coverings. Blackout blinds can be manufactured and fitted to match the style of your space – for example, wooden blinds can be crafted to match your room's flush doors. We can provide bespoke designs to complement the corners of your bedrooms – so many beautiful bedroom ideas are available if you contact our consultation team today.
Thanks to our free design visit, in which you will receive advice on what solutions our blinds experts recommend to help bring your home to life, we are proud to be different from all other blinds services. Our knowledgeable staff can walk you through the selections, answer all of your questions, and provide a free comparable price quotation.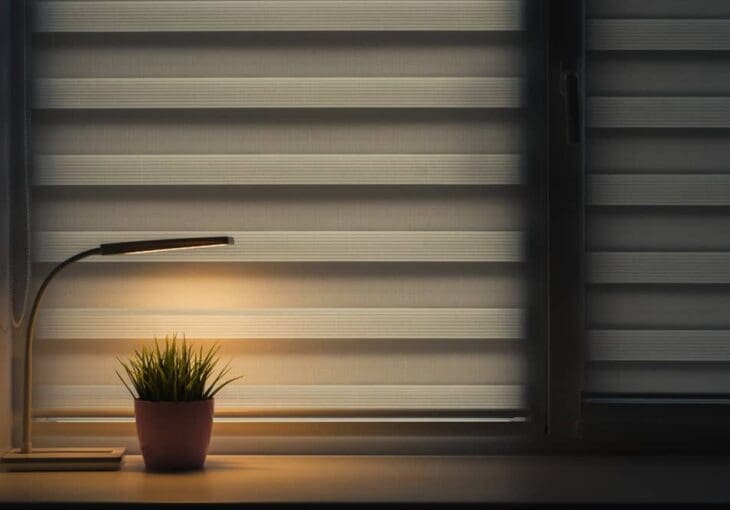 West Yorkshire window shutters
At Solaire Blinds, in addition to a wide selection of window blinds, we install bespoke window shutters in Lofthouse and West Yorkshire, offering a custom shutter design service. Our luxury window shutters are meticulously handcrafted to request, and the wood used to make them is obtained from sustainable resources, making them environmentally sustainable.
We specifically provide quality plantation shutters that, unlike typical shutters, which are solid and meant to keep light out, are louvred. This means they feature movable slats that allow you to control the amount of light that passes into your space.
If you want to add some extra elegance and practicality to your house or property to make each room more attractive, simply adding plantation shutters creates an exquisite, sophisticated design that significantly refines the look and atmosphere of the space. Our exceptional shutters can be placed all around the home, including the bathroom – in fact, they are often featured in bathroom design ideas found online.
For more information, advice, or to book your free consultation, get in contact with us on 0345 222 0138.