We have a complete range of vintage blind styles, as well as a selection of modern-design adapted window coverings at here Solaire Blinds. When you buy from us, you have a lot of choices for the colour and design of your blinds, with a variety of fabric samples to choose from, ranging from modern and artistic to traditional and tranquil.
While we are renowned for providing quality blinds that look aesthetically appealing and stylish, our blinds are also very high in quality and fit for purpose, providing several meaningful benefits for your home.
Light control
Window blinds allow you more control over the quantity of light that enters your home and space since you can cover the entire window, or just a portion of it, depending on your preferences.
Some window blinds have slats that are so closely fitted together that block out the majority of the natural light, but can be adjusted to allow more light in when required. This is beneficial if you want to block out all light, especially on mornings, but also want the option to allow some light in to keep your home bright and airy.
Added privacy
Blinds give a level of seclusion that many other solutions, such as drapes, do not. Certain blinds can be installed for the best level of privacy control. You may use them to drop the shade from the top, allowing natural light in while maintaining the privacy you desire.
Easy to maintain
Window blinds are often fairly simple to clean and maintain, requiring only a wipe every now and then to eliminate dust. When compared to curtains, which must require more time to be cleaned, blinds become the more convenient alternative.
Many blinds feature a waterproof seal that allows water to be easily wiped away, making them more resistant to mould development, which thrives in high-moisture environments. For example, vertical blinds are simple to clean since gravity assists in the removal of water and dust.
Blinds are a great option if you need a simple, quick solution for your window coverings. Our blind fitting service is quick yet effective considering how great of a solution they are.
What types of window blinds are best?
At Solaire Blinds, our stock of bespoke blinds that we fit in homes around Birstall is wide-ranging. We know each home has its own aesthetic, and we're very confident you'll be spoilt for choice with us. So, if you're browsing around our catalogue, we'd highly recommend some of these favourites.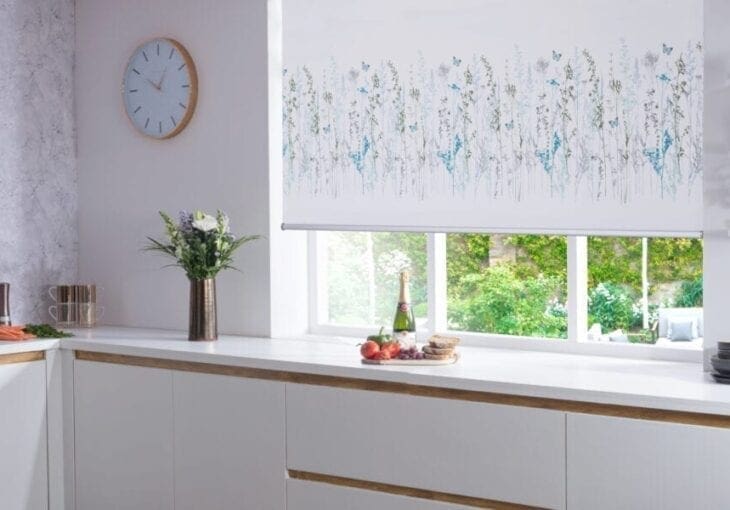 Roller blinds
Roller blinds are one of the most flexible types of blinds and are among our range of beautiful products. They are available in a range of materials, light filters, colours, and designs. They can be made of flexible PVC fabric, which is inherently flame resistant, waterproof, and relatively simple to clean, which makes them great for just about any room in your home or property.
The increased and advanced light control provided by roller blinds is a tremendous benefit. It's not as efficient as Venetian blinds, but it gives the space a stunningly strong aspect. If you want a gentle light, these would work perfectly.
Pleated blinds
Pleated blinds are another excellent window blind option that function by utilising a cloth that folds open and shuts. When properly installed, these made-to-measure blinds look extremely beautiful on windows.
Our pleated blinds are also available in with a cordless option when used in the perfect fit system. These are blinds that open and close with a tab rather than a cord. Because cords can be a threat to small children, cordless pleated blinds are a great option for family homes and are suitable for full-size windows or doors of all domestic properties. Please be aware that our cordless pleated blinds can only be utilised in the perfect fit system and not as free hanging blinds.
Venetian blinds
Venetian blinds are a show-stopping alternative to other window solutions at a relatively low and affordable cost. They provide unrivalled control over the light entering your room owing to their unique slat control.
These blinds are an excellent window solution for the winter months when you want thermal insulation and a wise solution to integrate energy efficiency into your house.
Window shutters in Birstall
Window shutters are a very versatile, long-lasting, and popular window covering solution for many homeowners, showing to be an excellent alternative to blinds. As well as adding some extra privacy to your home, window shutters can also control the amount of light that enters your space, and even have great airflow regulation as they can allow air in when you need it.
At Solaire Blinds, we manufacture and install custom shutters in Birstall and Yorkshire, as well as offer a custom shutter design service.
Handcrafted by qualified blinds manufacturers
We proudly provide exceptional custom window shutters, known as plantation shutters. Our premium window shutters are skillfully handcrafted to order by our City & Guilds licenced team of experts, and the wood used to make them is obtained from sustainable resources, making them ecologically friendly.
Here at Solaire Blinds, we specialise in installing excellent plantation shutters that, unlike traditional shutters that are designed to keep light out, are louvred, which means they have adjustable slats that allow you to control the total amount of light that enters your room.
Wooden shutters are also a better option than blinds when it comes to noise reduction. When the shutters are closed, the solid panels act as a sound barrier between the inside and outside of your home, offering incredible sound insulation like no other.
Our window shutters are extremely easy to clean and maintain if you're looking for a high-quality, low-maintenance window covering; they are a great investment for your home. If you are looking to bring some beauty and magnificence to your home and desire a window solution that boasts both style and functionality, get in touch with us today and receive a quote.
Arranging a home visit to measure your windows
To discover the finest bespoke window blinds for your home, you must first visualise how the blinds will appear in your home and how they will complement your existing furniture. Well, that's why at Solaire Blinds, we can arrange for one of our reputable blinds consultants to come to your home and allow you to pick your new beautiful blinds or shutters from the comfort of your own home, while also being able to see how each to design will fit in your space.
Our amazing home visit service enables us to provide you with professional guidance on our blind products and help you identify which of our high-quality textiles will best fit your window covering. We appreciate that having some of our house fitting team or installation teams come to your home might not always be the best time for you, so feel free to tell us what date and time work best for you, and our staff will be pleased to accommodate you.
Please ask us during your free home consultation if you have any queries related to our blinds or the skilled window blinds services we provide. We also provide outstanding customer service as well as a bespoke service to facilitate your needs.
To find out more about our window and blinds services, for a free quotation, to arrange a home visit, or for any other queries, get in touch with us today.